It's Over! RHOBH Season Finale Ends With A Bang: Everyone Fights!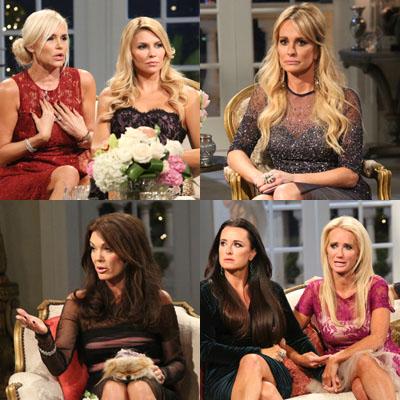 The Real Housewives of Beverly Hills went out with a big, beautiful, rich bang!
As the explosive season three of the hit reality show ended Monday night, the one thing that everyone did was fight -- and they were epic battles that only the ladies in the 90120 could pull off!
Lisa Vanderpump and her husband Ken Todd decided to renew their vows after 30 blissful years of marriage, but of course their loving celebration turned into one cat fight after another!
Article continues below advertisement
Faye Resnick showed up at Lisa's stunning mansion and proceeded to pick a fight with everyone there. She attacked Brandi Glanville for her blow up with Adrienne Maloof and then accused Lisa of using Brandi to fight her battles, which did not go over well with the bride to be.
"I take offense to that," Lisa tells Faye, but the drama doesn't end there! Adrienne arrived at the party in hysterics because her husband, Dr. Paul Nassif, had served her with divorce papers that very day.
"It's very hard for me to be away from my children, so to have to give that up is extremely painful," Adrienne explained. "It's tough. I just go served with papers tonight."
Eventually Adrienne left, without every saying goodbye to Lisa and Ken, who slammed her actions.
VIDEO: Brandi Glanville: 'I'm Not A Slut…Or A Stupid B*tch!'
"I was very surprised she came to our wedding anniversary and didn't even have the decency to come find Lisa and I. Typical, typical, bloody Adrienne," Ken said, but quickly forgot about her as the vow renewal began.
Article continues below advertisement
The most lighthearted moment of the show was when Ken said his vows: "I love you darling," he told Lisa and they each held Giggy in their arms. "And whatever I said before 30 years ago, still stands. I promise to obey you. Again."
The season ended with a recap of what each of them women are doing: Lisa is on Dancing with the Stars, Brandi turned 40 with a party at SUR, Taylor is dating her attorney, who's technically still married, Adrienne and Paul have split, and Kim and Kyle were in a diving show - and came in last place together.
Did you like the season finale of The Real Housewives of Beverly Hills? Tell us in comments!