Kenya Moore Puts On Pretty -- Make That Petty -- Face At Costume Party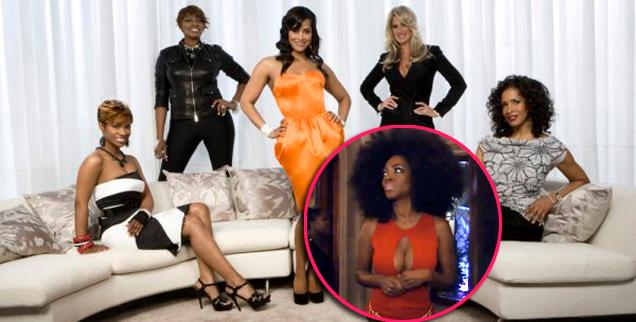 No get-up could disguise the bad vibes at Kenya Moore's costume party during Sunday's season finale of The Real Housewives of Atlanta, as the ex-Miss USA had castmate Porsha Stewart booted from the bash after she wasn't compliant with her specific orders about what to wear.
Here's how it all went down: The party's theme was black iconic women in film, with Kenya telling each of the cast members to dress as a certain film character she felt best matched their personality.
Article continues below advertisement
While Kenya dressed as Pam Grier from Foxy Brown, she wanted Kandi Burruss to dress as Angela Bassett as Tina Turner from What's Love Got To Do With It; Cynthia Bailey to dress as Diana Ross from Mahogany, NeNe Leakes to dress as Grace Jones from Boomerang; Phaedra Parks to dress as Eartha Kitt as Catwoman from Batman; and Porsha to dress as Halle Berry's character in B*A*P*S.
Porsha, however, had her own ideas, and wound up going as another Halle Berry character (from the film Introducing Dorothy Dandridge), causing Kenya to melt down and have security throw both Porsha and her (now-estranged) husband, Kordell, out of the bash.
"This is very disrespectful!" the brash diva Kenya complained.
Kordell, who filed for divorce last week, was especially irate about the snub, trading harsh words with Kenya's pal Brandon DeShazer.
All of the other housewives were set to leave in protest before NeNe, acting as the voice of reason, smoothed things over, leading Kenya to apologize to Porsha for the snub. (Even the sometimes-melodramatic NeNe was aghast at Kenya's hair-trigger temper, saying, "There's a difference between keepin' it real and keepin' it real f***in' crazy," she said.)
Watch the video on RadarOnline.com
The Real Housewives of Atlanta reunion special airs Sunday on Bravo at 8/7c.