Exclusive
Ray J Refuses To Deny His Sex Tape Partner Kim Kardashain Is Muse For His New Song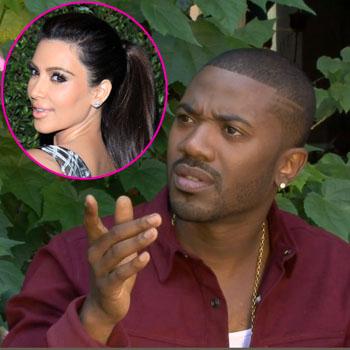 Ray-J's new song I Hit It First is causing a lot of controversy because many think it's a reference to his sex-tape partner Kim Kardashian, and he certainly isn't doing anything to squash those rumors.
He is hosting the upcoming series Bad Girls All Star Battle on Oxygen and sat down with matchmaker and relationship guru Natalie Clarice of Find Me My Man who tried to get him to fess up to penning the song about Kim, and RadarOnline.com has the exclusive video clip.
Article continues below advertisement
"What is that about?" she says as she puts him in the hot seat.
"I think people are going way too deep," Ray J says about the new tune, but never actually admits or denies that it is about Kim. "It's really light."
Ray J tries to say that what people think about the song (that it's about Kim) wasn't the intended meaning behind it.
"Everybody's going this way with it," gesturing one way, while saying "I'm going this way with it," and gesturing another way.
Natalie and her dating coach George are on a mission to find the right woman for Ray J, who was dating Whitney Houston when she tragically died in February 2011, but they aren't sure he's ready for love.
"Love has got to find me, that's what my grandma says," Ray J boasts to Natalie, but she calls him out.
"You want your cake and ice cream too," she tells Ray J and he agrees.
"Cake and ice cream is good."
Tune in to Find Me My Man Tuesdays at 9PM ET/PT and the Bad Girls All Star Battle premiere on Tuesday, May 21 at 9PM ET/PT — both on Oxygen.