Someone Call Underdog! Woman Steals Puppy At Pet Shop By Stuffing It In Her Purse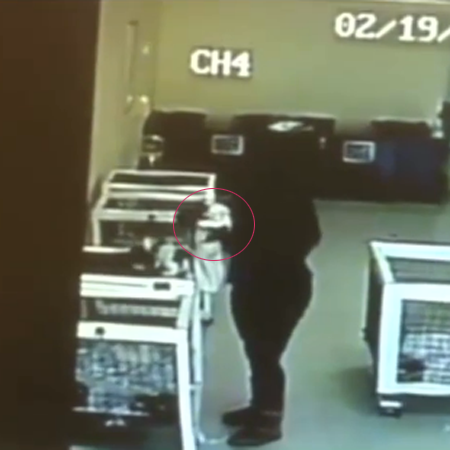 Here's hoping SHE gets collared and put in the pound!
A woman brazenly stole a pricey puppy from a pet store in Orlando, Florida and stuffed it into her purse -- fortunately, it was all caught on surveillance video so hopefully someone will recognize the dog-napping thief.
In the 29-second video, we see the sneaky woman walking around the Just Puppies store around 12:40 p.m. on February 19.
The thief -- who was accompanied by a little boy in the store -- first holds one puppy, and then, when store employees are not watching her, she reaches into a pen and picks up another one -- a tiny Bichon, who was only a few weeks old.
Article continues below advertisement
She then puts the other pup back into its pen, before callously slipping the Bichon into her purse.
Unfortunately, store employees didn't notice the dog was missing until sometime later.
"I hope whoever has the puppy is taking good care of it because she is a small puppy and sometimes they do need extra attention," pet store employee Linda Wirtz told Orlando TV station WESH-TV. "I hope she's okay," she added.
The Bichon was being sold for $900, which makes this a grand theft case.
youtube
Watch the video on RadarOnline.com
Just Puppies is offering a reward of $500 for the puppy's safe return.