'Body Evolution' Photoshop Model Identity Revealed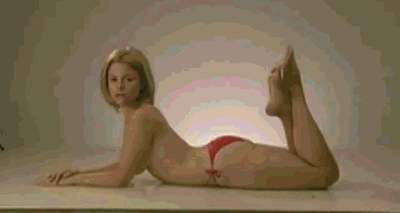 She's already been seen by millions but until now the identity of the model in the Body Evolution time-lapse video has been unknown.
She's Sally Gifford Piper, whose director husband, Tim Piper, created the stunning time lapse video for GlobalDemocracy.com.
"The reality is that most of us don't look like these perfect women and I think there needs to be a celebration of all different shapes and sizes. And we need to see more variety and I'm determined to fight for that," Sally told Entertainment Tonight http://www.etonline.com in an interview airing Monday.
Article continues below advertisement
The 36-second clip shows Sally undergoing a transformation into a model with the help of a hair and makeup artist and Photoshop. After going through an intense hair and makeup process and Photoshop, she appears thinner, tanner, with a thinner nose, longer neck and smoothed out skin.
And what does Tim think of all the attention is wife is now getting?
"It was exciting but it's also nerve-wracking. You don't really expect it to blow up like that and it is exposure for Sally. So I called her and I said I hope you don't mind, but a few million people might see you in your underwear pretty soon."
Sally thinks the reaction to the video is "cool."
"I got attention for the right thing, I think, as opposed to getting attention for being perfect. I got attention for being imperfect. So it's a little less pressure."
Tune into Entertainment Tonight Monday, November 4, to see the Pipers talk about their amazing video.