People's Choice Awards: Jennifer Hudson Has Night's Most Poignant Moment Accepting Humanitarian Honors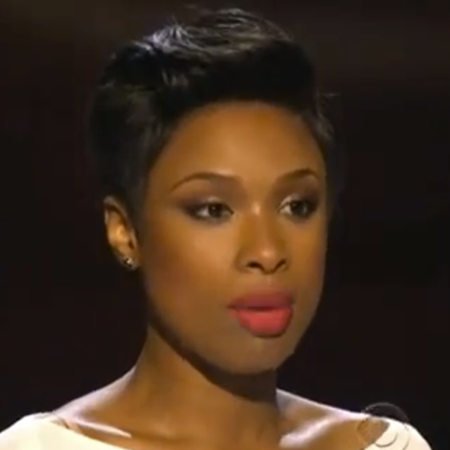 Article continues below advertisement
She delivered an impassioned speech with her sister Julia at her side, paying homage to her dear departed.
"My mother always taught us without family you have nothing," Hudson said. "Whether you know it or not, we all are family. What happens to the other happens to us. It's one thing to be a celebrity and have power, but it means nothing if we're not making a difference and helping someone else.
Watch the video on RadarOnline.com
"It feels good to see positivity acknowledged: where we come from all you hear about is who shot who and who went to jail. There is more to life than the block you live on. We want to show them that I came from the same area and if I can do it, you can do it too. It does not stop there."
Check out the full list of winners.
The resurgent Downey Jr. claimed the favorite action movie star honors for his role in Iron Man 3, while Bullock claimed the singular awards for favorite movie, comedic and dramatic actress, as well as the favorite movie duo award for her pairing with George Clooney in Gravity.
Watch the video on RadarOnline.com
Ellen DeGeneres set a record with her 14th lifetime People's Choice win, claiming the award for favorite daytime TV host, while Las Vegas diva Britney Spears shined as she won the honors for favorite pop artist.