SHOCKING NEW VIDEO: Paula Deen Calls Slaves 'Black Folk Who Were Like Our Family'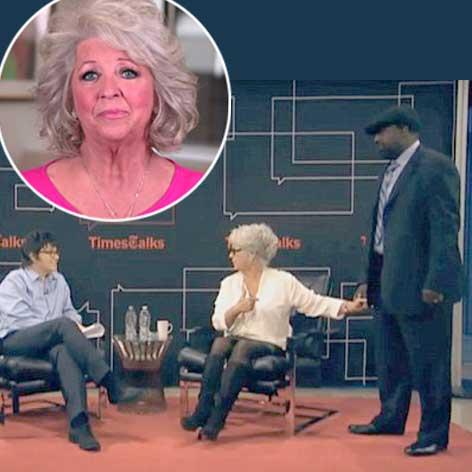 Paula Deen is digging herself one heck of a deep hole.
The former Food Network star has revealed even more antiquated views on race and slavery in a video interview she did last year.
In a wide-raging conversation with reporter Ken Severson of The New York Times, Paula talked about how her great grandfather struggled with the loss of his slaves -- he had 37! -- after the Civil War.
"Between the death of his son and losing all the workers, he went into his barn and shot himself because he couldn't deal with those kind of changes," Paula said.
Article continues below advertisement
"Back then, black folk were such an integral part of our lives, they were like our family, and for that reason, we didn't see ourselves as being prejudiced."
Paula never used the word "slave" or mentioned that, in reality, slaves were bought and sold, and routinely beaten, raped and murdered by their owners.
She then hit it out of the park in terms of bizarre explanations of her feelings about race when she called one of her employees, who is black, out of the audience and onto the stage which had a dark back drop.
With interviewer Sorenson looking on uncomfortably, Deen called her staffer Hollis Johnson "as black as this board."
Taking Johnson's hand, she laughed, "we can't see you in front of that dark board!"
Deen then heaped praise on the man, saying she'd trust him with her life, "and color ain't got nothing to do with it."
As RadarOnline.com has been reporting, Deen was dumped by the Food Network after it was revealed that in a taped deposition in a lawsuit, she admitted to routinely using the 'N' word and to having what can only be called questionable views on race.
You can watch Paula's stunning interview with The New York Times here.