Oscar Pistorius Murder Trial: Paralympian Takes Stand For The First Time, Says He Was 'Simply Trying to Protect' Girlfriend Reeva Steenkamp In Shooting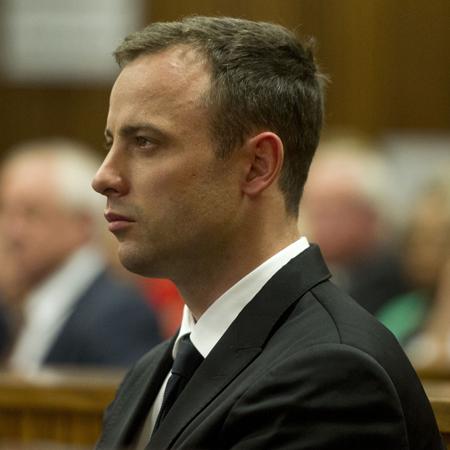 Oscar Pistorius apologized for killing his girlfriend Reeva Steenkamp in his initial statement Monday, as he took the stand for the first time in his murder trial in South Africa, and RadarOnline.com has the details for you.
"There hasn't been a moment since this tragedy happened that I haven't thought about your family," the Olympian told Steenkamp's mother June, who showed no emotion at the double-amputee's concession. "I wake up every morning and you're the first people I think of, the first people I pray for ... I was simply trying to protect Reeva.
Article continues below advertisement
"I can promise that when she went to bed that night she felt loved."
In his testimony, Pistorius, 27, said he's been haunted by the "smell of blood" in nightmares since the Feb. 14, 2013 incident, which he claims his mistake, as he thought the model-reality star was an intruder.
Pistorius said he's been taking anti-depressants and sleep-deprived since the shooting, citing one incident in which he began to panic.
"I climbed into a cupboard and I phoned my sister to come and sit by me, which she did for a while," said the athlete, who spoke in such hushed tones that Judge Thokozile Masipa told him to speak up at one point.
Watch the video on RadarOnline.com
Visit NBCNews.com for breaking news, world news, and news about the economy
Pistorius, under questioning from his attorney Barry Roux, opened up about his past, linking his well-established connection to firearms to his late mother Sheila's practices of sleeping with a gun under her pillow, due to "security concerns."
Article continues below advertisement
He added that a 2009 boat wreck he was in forever changed his personality, having a "massive impact" on the feverish approach with which he approached his career and personal security.
As we previously reported, should Pistorius be convicted of premeditated murder, he could be sentenced up to life with a 25-year minimum sentence. If convicted of murder, he could face up to 15 years in custody. With no jury trials in South Africa, his fate rests in the hands of Masipa.
In South Africa, where Pistorius had been acknowledged as a premiere sports superstar, the legal proceedings have been dubbed "the trial of the century"-- the same slogan media pundits in the states referred to the O.J. Simpson trial that began 20 years ago.