Oscar Pistorius Murder Trial: Paralympian Breaks Down On The Stand Describing Fatal Shooting Of Girlfriend Reeva Steenkamp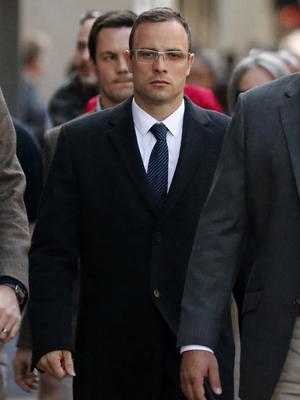 Emotions were at a fever pitch in South Africa's Pretoria court Tuesday, as Oscar Pistorius, testifying in his murder trial, forcefully cried in describing the sequence of events in his Feb. 14, 2013 shooting of girlfriend Reeva Steenkamp.
Pistorius, 27, told the court he thought an intruder had broken into his home when he heard a noise coming from a bathroom window.
"My Lady, that's the moment that everything changed," he told Judge Thokozile Masipa. "I thought there was a burglar that gained entry to my house: the first thing that ran through my mind was that I needed to arm myself, get my gun.
Article continues below advertisement
He said he mistakenly believed the reality star-model was in the bed, before charging the door of the bathroom.
"I was talking to Reeva," Pistorius said, his voice cracking throughout. "Nobody responded to me. I lifted myself up and put my hand on the bed.
"I thought Reeva was there and I didn't feel anything."
On guard, with gun in his hand, the admittedly security-obsessed athlete reeled off four shots through the bathroom door.
"At that point," Pistorius said, "all I wanted to do was just look inside to see if it was Reeva. I was screaming and crying the whole time. I don't think I ever screamed or cried like that. I was screaming for God to help me."
Upon discovering he had felled the stunning model, a crying Pistorius described his reaction, as others in the courtroom were crying by that point.
"I got the door unlocked and flung the door open and I sat over Reeva and I cried. I don't know how long. I don't know how long I was there. She wasn't breathing."
Article continues below advertisement
Watch the video on RadarOnline.com
Masipa at that point called for a break in the proceedings, and Pistorius' brother and sister went to comfort him. He was crying as he left the courtroom through a side exit, later returning a bit more together.
In an earlier demonstration during Tuesday's proceedings, Pistorius -- whose claim he was not wearing his prosthetic legs at the time of the killing has been a sticking point between the prosecution and defense -- took off the artificial limbs and physically reenacted the shooting sequence with the very same door he shot the model through.
Watch the video on RadarOnline.com
ABC US News | ABC Business News
As we previously reported, should Pistorius be convicted of premeditated murder, he could be sentenced up to life with a 25-year minimum sentence. If convicted of murder, he could face up to 15 years in custody.
With no jury trials in South Africa, his fate rests in the hands of the judge.
In South Africa, where Pistorius had been acknowledged as a premiere sports superstar, the legal proceedings have been dubbed "the trial of the century"-- the same slogan media pundits in the states referred to the O.J. Simpson trial that began 20 years ago.