Oscar Pistorius Murder Trial: In Last Session Before 2-Week Break, Prosecutor Tries To Discredit Defense's Expert Witness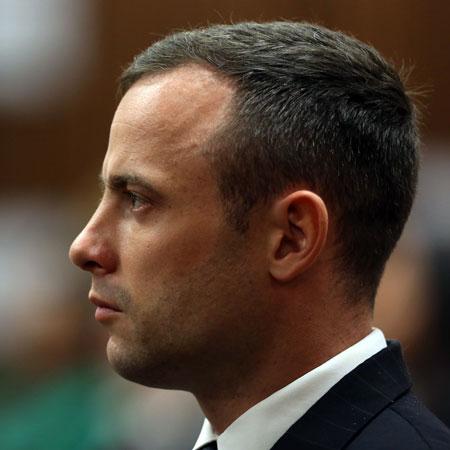 In its' final session prior to a two-week break, the Oscar Pistorius murder trial Thursday saw the prosecution cast doubt on the credibility of a forensic expert who testified for the defense a day earlier.
Roger Dixon, a former police officer-turned-geologist, discounted earlier testimony, presented by the prosecution, from Police Capt. Christiaan Mangena regarding the order of injuries Steenkamp suffered in the shooting. Dixon said he felt the reality star was struck by the first two bullets the double amputee runner fired, supporting the notion that the desperate runner acted in haste, under the mistaken belief an intruder was behind the door.
Article continues below advertisement
On Thursday, bulldog prosecutor Gerrie Nel challenged Dixon's credibility to even be on the stand, claiming the man had no legitimate credentials to offer his opinions on certain topic matter he'd professed on; and had conducted slipshod examinations on his own.
Nel pointed out that Dixon didn't figure in Pistorius' height while shooting on his stumps when offering his expertise on whether or not the Olympian could have been seen by his neighbors through the window Feb. 14, 2013, the night of the fatal shooting.
"It is something I omitted, I overlooked it at the time," Dixon responded to the grilling, noting he hadn't intended on misleading the court.
Dixon — who testified in areas related to crime scene analysis, ballistics and gunshot damage, among other things — has been derided in the South African media for the aforementioned perceived shortcomings since taking the stand.
Watch the video on RadarOnline.com
As we previously reported, the two-week delay was a move requested by prosecutors, with the defense's blessing, as the extended time spent in the trial has bled into the timeframe for a separate case for a member of the prosecution team, spurring the request for the delay. The trial will resume in South Africa's Pretoria court May 5.