Oscar Pistorius Trial: Neighbors Recall 'Crying' Man 'Desperate For Help' On Night Of Shooting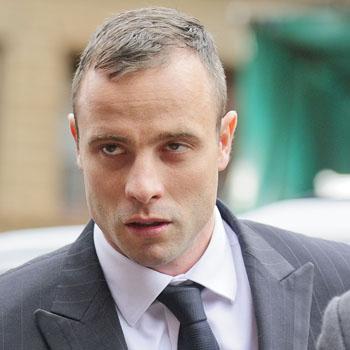 Two of Oscar Pistorius' neighbors took the stand Tuesday at South Africa's Pretoria court in the Olympian's murder trial in the shooting death of his girlfriend Reeva Steenkamp, recalling hearing a crying, desperate man pleading for help in the Feb. 14, 2013 slaying.
The testimony touches on a key detail of the case, as prosecutors say Steenkamp had been screaming following the after hours argument with Pistorius, while the paralympian said the model-reality star did not emit any loud noises.
Article continues below advertisement
Both Michael and Eontle Nhlengethwa made clear they didn't hear any of the four shots fired, but Eontle said she'd heard a "loud bang," which prosecutor Gerrie Nel attributed to the 27-year-old knocking down the door with a cricket bat.
Michael — who said the window of his bedroom was located about 80 feet from Pistorius' home — said he'd heard a high-pitched male voice wailing for help, bellowing the words, "No, please, please, no, while Eontle said she'd heard "a man's voice" calling out for aid, actually imitating the sound she heard in testimony.
Watch the video on RadarOnline.com
Michael said he'd summoned security in the upscale gated complex they'd lived in, telling the guards, "I hear there's a man who is crying and I think he is desperate for help."
Michael characterized the Blade Runner as "basically that friendly neighbor," and the very first to welcome he and his wife to the gated neighborhood five years ago. He added that he'd only met the 29-year-old Steenkamp on the weekend prior to the shooting, but the experience stayed with him vividly.
Watch the video on RadarOnline.com
"I don't think I will ever forget that moment," the man said. "She just opened her arms. She just came and hugged me."
As we previously reported, should Pistorius be convicted of premeditated murder, he could be sentenced up to life with a 25-year minimum sentence. If convicted of murder, he could face up to 15 years in custody.