Oscar Pistorius Trial: Neighbor Testifies In Support Of Paralympian, Says 'Desperate' Runner 'Was Asking God' To Save Reeva Steenkamp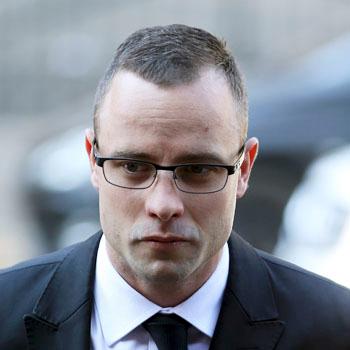 Oscar Pistorius' murder trial in the shooting death of his girlfriend Reeva Steenkamp resumed in South Africa's Pretoria court Monday after a two-week hiatus, with Johan Stander, one of the Olympian's neighbors, testifying that the accused murderer was "torn apart," "really crying" and "in pain" the morning of the Feb. 14, 2013 slaying.
Stander said he received a call from the paralympian around 3:18 or 3:19 a.m. the morning of the killing, in which Pistorius pleaded, "Johan, please, please, please come to my house. Please. I shot Reeva. I thought she was an intruder. Please come quick!"
Article continues below advertisement
Stander, who arrived at the death scene with his daughter Carice Viljoen, told the court he interpreted the Blade Runner's behavior in the wake of the shooting to be indicative of a lovelorn man shattered by a horrific — and accidental — twist of fate.
"I saw the truth there that morning — I saw it and I felt it," Stander said, adding that he thought the 27-year-old had made a valiant and "committed" effort to save the life of his lover.
The double-amputee runner "was asking God to help him," Stander testified, characterizing Pistorius' demeanor as "torn apart, broken, desperate and pleading.
"It's difficult really to describe."
Watch the video on RadarOnline.com
ABC US News | ABC Business News
Under cross-examination from Gerrie Nel, Stander told the bulldog prosecutor, "I'm here to give the truth and I think I've given the truth. What I saw that morning."
Viljoen, in her time on the stand, testified to the horrific sight she endured, watching Pistorius "praying to God to save her life and he was talking to Reeva, begging her to please stay with him.
"He said, 'Stay with me my love, stay with me.'"
As we previously reported, the two-week delay came via a request from prosecutors, with the defense's blessing, as the extended time spent in the trial has bled into the timeframe for a separate case for a member of the prosecution team, spurring the request for the delay.