Oscar Pistorius Murder Trial: Prosecutor Keeps The Pressure On Blade Runner — Who Admits He Blames Himself 'For Taking Reeva's Life'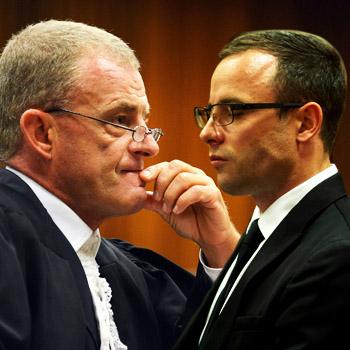 An impassioned Oscar Pistorius, in his ongoing tête-à-tête with prosecutor Gerrie Nel Monday, told the court in his ongoing murder trial, "I did not fire at" girlfriend Reeva Steenkamp, though later admitted he blamed himself "for taking Reeva's life."
The heated cross-examination continued in South Africa's Pretoria at the same feverish pitch it left off at the tail end of last week, with Nel deconstructing the athlete's alibi, claiming that he's fit his defense to the evidence in the case in contradictions to previous statements, and painting the Blade Runner, who broke down crying two times during Monday's session, as a narcissist who's not above fibbing to salvage his fate.
Article continues below advertisement
"You're tailoring your version as you're sitting there," the prosecutor said. "You see Mr. Pistorius, it's getting more and more improbable; you're building a version that is so improbable that no one would ever believe you."
On Monday — when grilled about his intent to shoot the burglars he said he believed were lurking in the bathroom — Pistorius declared, "My defense is I heard the noise, I didn't have time to think about what I wanted to do, I fired out of fear."
When Nel pointed out that those words contradicted his previous statement that he was defending himself, a weeping Pistorius said, "I did not fire at Reeva."
Nel asked the double-amputee Olympian, "If it was an intruder, would it have been an accident?"
He responded, "I think so, my lady, … I blame myself for taking Reeva's life."
Watch the video on RadarOnline.com
ABC US News | ABC Business News
Nel and Pistorius also quibbled over small details during Monday's proceedings, specifically the location of a duvet (a large quilt) that was in the athlete's home at the time he shot the model.
While Pistorius said the duvet was on the bed, Nel said that evidence in the spattering of Steenkamp's blood proved that false, saying that it was on the floor, another indicator Pistorius and Steenkamp had been bickering prior to the shooting.
As we previously reported, should Pistorius be convicted of premeditated murder, he could be sentenced up to life with a 25-year minimum sentence. If convicted of murder, he could face up to 15 years in custody.