Orlando Bloom Dishes To Andy Cohn About 7-Day Nude Scene On WWHL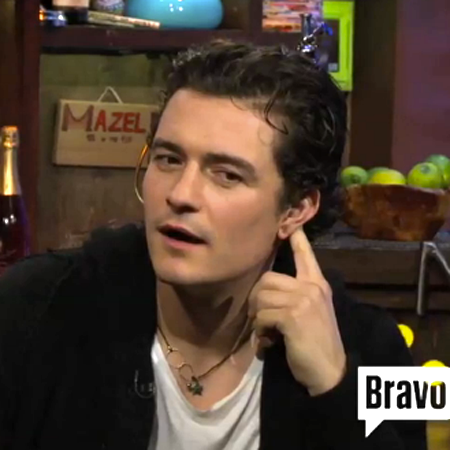 Orlando Bloom has revealed the very sexy details on his upcoming movie nude scene!
While appearing on Sunday night's Watch What Happens Live with host Andy Cohen, Bloom pleased a female fan who asked what it would take to get him to appear naked in a film.
The actor replied, "You're in luck 'cause earlier this year I spent about seven days on set wearing just a c*** sock because I'm nude.
"It's a film called Zulu. It stars myself and Forest Whitaker. It's directed by this fantastic French director called Jerome Salle. We premiered it at Cannes.
Article continues below advertisement
"You do get to see the full Orlando Bloom."
The hunky actor, who is now starring in Romeo and Juliet on Broadway, was joined on Cohen's talk show by his Lord of the Rings and The Hobbit co-star Sir Ian McKellen, who teased him, "Is this movie in 3D?"
Bloom said, "I had to wear a sock, because unlike Ian...." And then he trailed off without elaborating!
Later in the show, Cohen asked Bloom what he thought of the movie The Bling Ring, about a real life gang of teens who burglarized celebrity homes, including Bloom's.
"I do think it's rather tragic that in America, something like robbing somebody's house can be celebrated. It's really rather ridiculous," Bloom said.
"But at the same time, I'm sure it's probably a really interesting and fascinating story. I have yet to see the film. I'm a little on the fence. I'm had my innocence robbed, too. It's a really awful thing to have happen to you."
As RadarOnline.com has previously reported, Bloom just put his bling ring home up for sale.
And on Bravo Sunday night, Bloom said graciously that he might watch the movie someday.
"I probably will see it. I think Sofia Coppola's an amazing director. She's got a nose for a story."
Meanwhile, McKellen also was on Cohen's hot seat.
When asked the last time he watched porn, the openly gay actor, 74, admitted in a major TMI moment, "Two nights ago."
The Shakespearean thesp known for playing Gandalf the wizard also revealed, "I've slept with people who said they were my fans."