Nothing But Net! Toddler Makes Basket After Basket In Must-See Video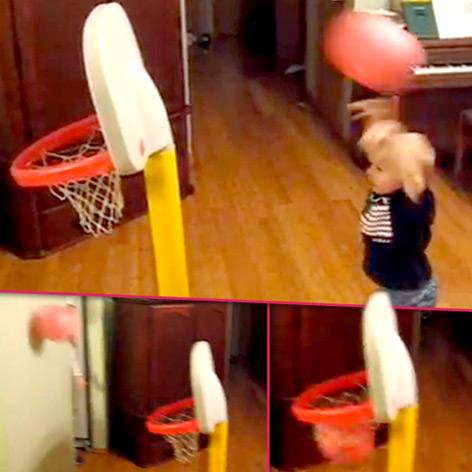 Last week, we showed you a viral clip of a tot running out onto the court during a college basketball game; this week, we have a tot that could probably outshoot everyone on it.
Meet Titus, a boy "between 18 and 24 months old" whose precocious shooting abilities are well-chronicled in a new Youtube video called "Unbelievable Little Kid Does a Trick Shot."
In the clip, Titus shoots basket after basket with pinpoint accuracy, showing preternatural feel and aim. (Seriously, it's as impressive as baby Superman lifting the car.)
Article continues below advertisement
His father Joseph Ashby, a Kansas-based radio host, wrote on the video that the boy "began shooting baskets shortly after learning to walk, we started filming some, and then got totally carried away.
"This is the trick shot video that makes other trick shot videos look like a bunch of old guys who should have something better to do -- like retire, turn up their pacemakers, or join an assisted living facility."
Watch the video on RadarOnline.com
youtube
Since the clip has gone viral, Ashby wrote on Facebook that ESPN, Good Morning America, The TODAY Show and Anderson Cooper have reached out to him to show off Titus's talents via their platform.