Nigel Barker Looks On In Horror As 'The Face' Finalist Has Anxiety Attack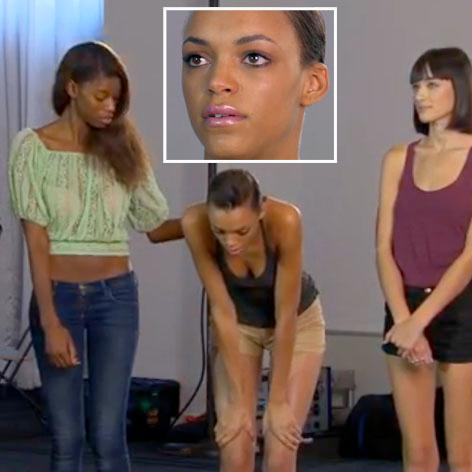 It all gets too much for one of the last four contestants during the grand finale of the reality TV model competition, The Face.
On Tuesday, Oxygen viewers will watch as host Nigel Barker leaves Devyn, 22, in a cold sweat, and RadarOnline.com has a clip of the dramatic moment!
The former America's Next Top Model judge is seen talking to the final four contestants – Devyn, Ebony Olivia Smith, Margaux Brooke and Zi Lin Luo.
Article continues below advertisement
He tells them: "However, you will not all make it to final runway. One of you will be cut before that happens.
"Now the stakes have never been higher."
The news obviously comes as a blow to Bronx native Devyn. The single mom holds her hands to her face and mutters: "I can't breathe…"
Ebony tries to comfort the New Yorker as she gulps and gasps for breath and a concerned Nigel says: "You alright love?"
Devyn races off set to calm down and the fashion photographer screams for a medic before dashing after her.
Watch the drama unfold – and find out who will be crowned the new face of ULTA beauty – Tuesday night on Oxygen at 9pm EST.
WATCH: NIGEL GIVES ONE CONTESTANT A FULL OUT PANIC ATTACK