Oops! Nicki Minaj Shows Up Late For Top Ten Performances On American Idol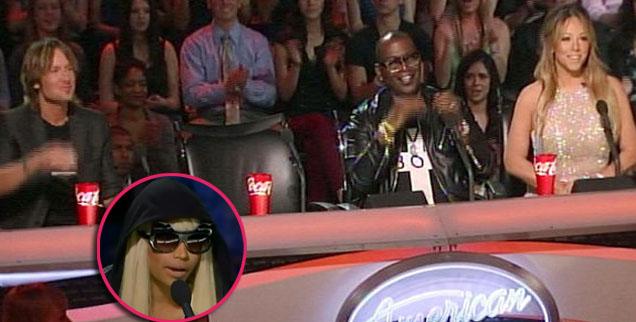 Nicki Minaj showed up 13 minutes late to Tuesday night's American Idol show -- the first live performances for the Top Ten finalists -- causing host Ryan Seacrest to filibuster a bit in her absence.
"We are coming to you live and on time … keep that energy going for three of your four judges who are here tonight," he said. "I hear she's seven minutes out and there's some congestion on the 405 … she should be here momentarily."
Article continues below advertisement
"I heard it was the 101," Randy Jackson said, while a smirking Mariah Carey shook her head, presumably irked by her peer's unprofessionalism.
"Which one of you gave Nicki the wrong directions today?" Seacrest joked. "Which one of you drained the fuel from her car?"
The Super Bass singer finally appeared during Curtis Finch, Jr.'s set, clad in a hoodie and sunglasses. Things were back to normal by the time the night's second singer, Janelle Arthur, took the stage.
Watch the video on RadarOnline.com
While she didn't acknowledge her tardiness on the show, she tweeted: "Stuck in traffic *sighs* F*** u Malibu!!!!!!!!!! *moves to Beverly Hills*
American Idol's 12th season continues Thursday on Fox at 8/7c.