Nick Lachey Hasn't Seen Jessica Simpson In 6 Years – And He Said WHAT About Her Dad, Joe?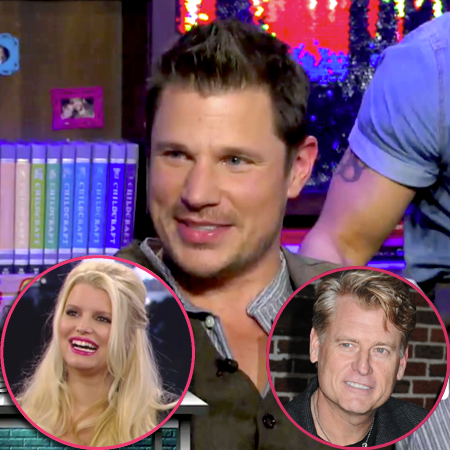 Nick Lachey, appearing on Watch What Happens Live Tuesday night, said he hasn't seen ex wife Jessica Simpson in six years, and had quite the jaw-dropping answer when asked by Andy Cohen, "What's the best thing about not having Joe Simpson as a father-in-law?"
While his brother Drew yelled out, "Everything," the 98 Degrees singer (flanked by his bandmates) was candid with Cohen during the popular segment, known as Plead the Fifth.
Article continues below advertisement
"I don't have to play grab-a** under the table anymore on Easter Sunday!" said Nick.
Was he talking about Jessica or Joe, who is rumored to be gay? (Joe adamantly denies he is gay.)
He said of his marriage to Jessica: "It was like another lifetime."
The former Newlyweds star, 39, split with Jessica in 2005, and married his now-wife Vanessa Minnillo in July 2011. They welcomed their first child, baby boy Camden John, last year.