NeNe Leakes Threatens Son's 'Baby Mama' With Restraining Order: 'Who The F**k Are You?'
Don't play with me!
That's exactly how NeNe Leakes seems to feel when it comes to her oldest son's alleged baby mama! Speaking exclusively to RadarOnline.com, Symone Davis said the Real Housewives of Atlanta star sent a series of vicious emails and threatened to serve her with a restraining order after the two had an explosive argument inside Leakes' Atlanta home last year.
Davis claimed she and Leakes' son Bryson Bryant were hanging out inside the star's home when she was two months pregnant. When she and Bryant told the 50-year-old they were expecting, Davis claimed an angry Leakes kicked her out of the house. Hours later, she said she received multiple threatening emails from her child's alleged grandmother.
Article continues below advertisement
"If I was Symone, I would run like hell," Leakes allegedly wrote in an email on April 3, 2017 according to Davis. "I suggest if Symone is pregnant, she think long and hard about this because Bryson is definitely not what she wants if she claims to want a career and a future. My next step is to have a restraining order on Symone...and anyone else I feel that is entering my home, taking pics and posting them on social media."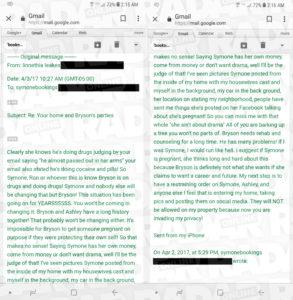 Leakes' wrath didn't stop there. Davis told RadarOnline.com she auditioned for several reality shows in Atlanta, and that Bryant told her to reach out to his mother's manager for help. Davis said she did, and when word got back to Leakes, she sent more "hateful" emails.
"DO NOT ever reach out to my manager and use my name again!" Leakes' allegedly wrote on May 1, 2017. "For your information NO he would NEVER rep you! Who the f**k are you!"
Article continues below advertisement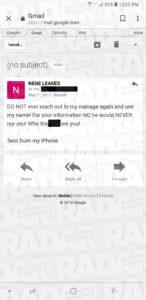 Davis also accused Leakes of refusing to acknowledge her alleged grandson. "She wants to keep my baby a secret," she said.
Though a rep for Leakes did not respond to RadarOnline.com's request for comment, the outspoken star slammed Davis in a radio interview this week.
"I feel very sorry for Symone. I think she's extremely thirsty," she said on The Armon Wiggins Show.
We pay for juicy info! Do you have a story for RadarOnline.com? Email us at tips@radaronline.com, or call us at (866) ON-RADAR (667-2327) any time, day or night.