NeNe Leakes Blasts Porsha Stewart As A 'Bad Friend' On 'The Real Housewives Of Atlanta'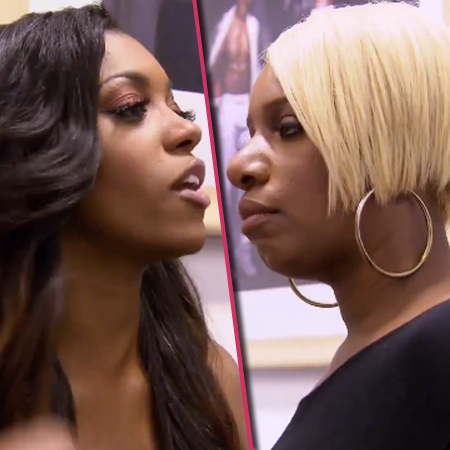 Article continues below advertisement
An irked NeNe then accused Porsha of having "bad etiquette.
"You could have called and even told me you was moving in and looking at a house there. I told you before -- you don't text, you don't call, you are a bad friend, period!"
Then, a teary-eyed Porsha stormed out of the party, with Cynthia following close behind.
"I'm going to have a nervous breakdown," Porsha moaned to Cynthia. "I can't deal."
An emotional Porsha told sympathetic Cynthia, "All this I'm dealing with, I'm not up for it. I've got a lot going on. I don't really want to hear I'm a bad friend right now. I just want your support."
NeNe gave Porsha a reluctant apology for making her cry.
"You didn't make me cry. It's just not a good day for me," Porsha said, crying even more -- on Cynthia's shoulder -- as NeNe rolled her eyes.
"But Porsha, I thought you would have at least said something to me" about the house, NeNe said. "We're supposed to be friends, big sister, little sister. You couldn't have even sent me a text, 'Hey, where's the golf course?' Or 'What do you suggest?' I would have been right there for you."
Article continues below advertisement
Meanwhile, back at the party, Kenya shouted, "Why is she crying?! This is NOT Porsha's divorce party!"
The former Miss USA -- not known for her sensitivity -- then twirled right out of the party and onto the highway in her orange dress, saying Porsha should just "grow a pair and move on!"
Porsha admitted to Cynthia and NeNe, "I feel like I'm way too needy right now."
NeNe sighed to the Bravo cameras, "It takes two to have a relationship. You have to be a good friend to have a good friend. Hopefully Porsha understands how I feel and I'm sure we can get there. We're just NOT there."
But it's doubtful Porsha will get over herself anytime soon, as on Sunday, viewers also saw her and divorce lawyer Randy Kessler sit down to discuss how Kordell's side had refused to settle with her.
Porsha decided to go to court to fight for a settlement, as there was no prenup.
"I feel like there should be something to move on with my life with," she told her attorney.
Later, Porsha confided in Phaedra and Kandi that she was having panic attacks over the divorce.
Article continues below advertisement
Also on Sunday's episode, Phaedra talked to Kandi Burruss about how their old friend Chuck Smith had called himself "the big homie" they had both had sex with.
The attorney laughed to Kandi about Chuck being a jerk -- and joked that she didn't like cocktail sausages or bite-sized brownies!
In another storyline, Cynthia confided in her sister, Malorie, that she and husband Peter Thomas had a knock-down, drag-out fight after Malorie announced she was moving in with the couple for two months.
Problem is, Cynthia gave her sister's plan the OK without even consulting Peter!
Later, Cynthia admitted to her husband, "I absolutely should have run it by you."
Cynthia also said they should be having more sex -- and promised Peter her former sexy self was coming back!
As RadarOnline.com has previously reported the Sunday RHOA episode also revolved around Kenya confronting her dad about how her mother had abandoned her.
Article continues below advertisement
Viewers learned that Kenya's dad was 16 when she was born, and the beauty queen was actually raised by her paternal grandmother.
"He's rough around the edges but he does have a big heart," Kenya said of her father.
Teary-eyed Kenya told him she needed to resolve her issues regarding her absentee mom in order to move on in life.
"I tried telling you years ago, let this go!" Kenya's dad sighed.
But he then admitted, "I tried to protect your well-being -- how well that turned out, it's not seeming to be so good."
Fans also learned that Kenya is driving a $100,000 Bentley.
She implied it came courtesy of her boyfriend from Africa: "I'm blessed to have someone in my life … who spoils me."
Watch the video on RadarOnline.com
Kandi has love in her life, too, but as RadarOnline.com previously reported, the music producer got upset when fiance Todd Tucker talked about possibly taking an out of town job.
"There's a lot of pressure on myself and Todd. I'm emotional," she confided to the cameras.