Think Twice Before You Heckle! Comic Myles Weber Gets NSFW Vengeance On Fan Who Ridiculed Prior Act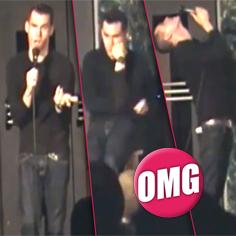 Comedian Myles Weber made his set very unpleasant for a female fan who threw shade on a funnyman colleague, and we've got the clip for you right here on RadarOnline.com.
The heckler said, "That was terrible," at the prior comic, provoking Weber to bring his A-game to the stage.
"Is it a hard crowd, or is it just that you won't shut up?" Weber kicked off his routine with, before verbally incinerating the unruly spectator in a manner that would have made the late George Carlin proud.
Article continues below advertisement
Watch the video on RadarOnline.com (WARNING: Clip Contains Profanity)
The clip is going viral thanks to much exposure on Reddit, with many commenters lauding Weber for his noble mission. (The clubgoer was eventually ejected, according to reports.)