Exclusive
That's A Wheely Strange Addiction! Woman Addicted To Eating Rubber Tires, Has Consumed A Whopping FIFTY Of Them!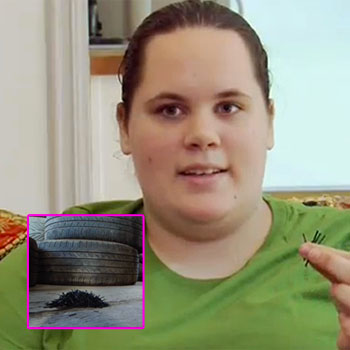 Allison is addicted to eating rubber tires, and in this exclusive sneak peek from My Strange Addiction obtained by RadarOnline.com the 19-year-old explains that the feeling she gets from eating them is "amazing!"
Allison has been addicted to chewing on small shreds of the tires for six years, and has consumed a whopping 50 whole tires in that time!
"The rubber tire pieces taste really chemically, like a shock to your taste buds. It's amazing," she says.
Article continues below advertisement
Her need for rubber hits her day and night, and she eats more than two feet of tire shavings a day — making a total of up to 14 pounds per month!
"The texture of the rubber pieces is like beef jerky. It's a work out for your jaw," Allison admits.
Allison's fiancé Sammy isn't happy about her addiction, saying "eating tires is weird" - before making the shocking revelation that he actually works in a tire plant!
"Pretty much every time he comes home he has some in his pants," Allison says.
Guess you could say it's a match made in Michelin!
Check out Allison's tire eating fetish on My Strange Addiction which airs Wednesday, March 6 on TLC at 10 p.m. ET/PT.