Cashing In? Jodi Arias Wrote A 'Manifesto' In Jail To Sell -- After She Got (In)Famous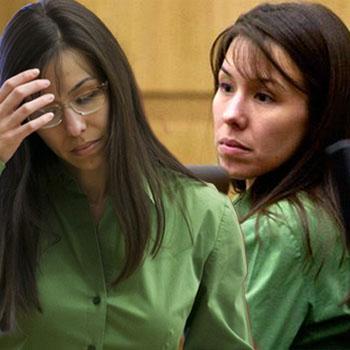 Rather than feeling remorse for butchering her former boyfriend Travis Alexander in 2008, accused killer Jodi Arias was already plotting how to become "famous" - or infamous - while waiting behind bars to go to trial.
That disturbing revelation emerged from the Phoenix, Ariz. courtroom on Monday where Arias, 32, is attempting to convince a jury she killed Alexander in self-defense.
But instead of portraying Arias as an abused victim during day 43 of the trial, defense expert witness Alyce LaViolette, a psychologist, left the courtroom with an image of Arias as a fame hungry woman who was desperate to cash in on the grisly death.
Article continues below advertisement
LaViolette revealed that Arias, from Yreka, Calif., authored a manifesto and autographed books and then gave it to a friend to take home from jail, reported HLN.
While LaViolette told the court that she didn't know if Arias believed she would ever be famous one day, the media frenzy surrounding the epic three-month trial suggests that she already is.
Indeed, HLN anchor Nancy Grace tweeted that sadly she will one day "be able to sell that manifesto for a lot of money."
Prosecutor Juan Martinez continued to dismantle LaViolette's testimony during cross examination, asking her: "Isn't it true that you are biased in favor of the defendant?"
"Do I believe the evidence that supports domestic violence, yes," she replied, adding that she didn't think that was "biased."
LaViolette apologized to Arias for reading her most private messages, showing personal feelings that were inappropriate for a professional relationship, according to the prosecution.
If LaViolette had a "good feeling" after talking to Arias for the first time, then she must "like" her, according to Martinez.
And at one point, his brutal interrogation appeared to work when LaViolette broke down and screamed, "I'm not lying!"
The trial continues tomorrow. Be sure to stay with RadarOnline.com for regular updates and our daily live-stream.