Move Over Kanye! Teacher Raps Algebra Equations In His Classroom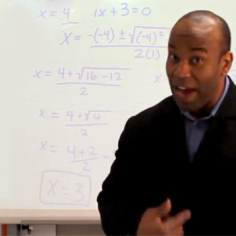 A Maryland school teacher is borrowing from the world of Jay-Z and Kanye West in finding a novel way of teaching kids algebra through rap music.
Jake Scott, a varsity wrestling coach and math teacher at Montgomery Blair High School in Silver Spring, MD, goes under the moniker 2 Pi, a math equation, to hold the attention of his class when explaining complicated calculations and theorems.
Scott creates his own rhymes in his lessons to teach the kids the normally dull subject in an attempt to make learning math cool. His rapping style has even become a YouTube hit!
Article continues below advertisement
"Students are bored so quickly," Scott told NPR.
"You know, the videos that they watch — they see one person on the screen for more than five seconds, and they're like, 'I'm tired of this guy already,' you know?
"So I think that I gotta jump around and include commercials in there where I'm addressing their personal behavior, I'm addressing relationships, and I'm addressing respect for their parents.
"And I think that all those things have to happen in order for me to maintain the students' attention."
It is something Scott admits he can relate to from his own youth. "I mean, from seventh through ninth grade, those were lost years," Scott says.
"I grew up in Capitol Heights, MD. Status quo there, you know, was you sold drugs, we stole cars. It was just normal. ... I mean, I remember being pulled over for riding on a stolen motorbike, kneeling down on the gravel, just waiting for my parents to come and identify who I was for me to be released. But I mean, that was normal; that was fun."
Article continues below advertisement
But Scott's main aim in transforming himself into 2 Pi is to make meaningful connections with his students.
"I mean, I think that we can preach to kids until they turn blue and we turn blue, but if there's no connection, then there's no response," Scott says.
"I mean, I constantly search for ways to connect with students — with the language, with conversations, music. Some students are more difficult than others, depending on what they have at home.
What do you think of Scott's rap efforts? Watch the video and let us know!
youtube