Court Scream: Morgan Freeman Accused Of Molesting Granddaughter At Murder Sentencing
The mother of the man convicted of killing Morgan Freeman's step-granddaughter screamed in court that the famous actor had sexually abused the victim and was to blame for her death.
Lamar Davenport was sentenced to 20 years in prison for the slaughter of E'Dena Hines, whom he stabbed 25 times while high on PCP.
During the hearing his mother reportedly yelled out in the court room: "Morgan Freeman molested her and he caused this. He did this."
Article continues below advertisement
In 2009 The National ENQUIRER reported shocking claims that the A-list actor was caught in a secret love affair with Hines that began when she was a teen. Both vehemently denied the alleged decades-long affair.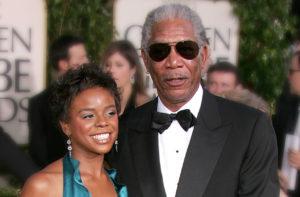 At the time, the charge emerged during the bitter divorce battle between the acclaimed actor and his wife Myrna Colley-Lee, a source told The ENQUIRER.
The alleged affair not only contributed to his split from Myrna, his wife of 25 years, it also led to his breakup with his longtime mistress, former schoolteacher Mary Joyce Hays.
RadarOnline.com readers know Hines was the granddaughter of Morgan's first wife, Jeannette Adair Bradshaw. Although Morgan was not related to Hines by blood, he agreed to raise her with his second wife, Myrna Colley-Lee.
As the 20-year sentence was handed down in Manhattan Supreme Court, the convicted killer's mother reportedly screamed: "He's innocent! It was an accident!"
She was escorted out of court following her outbursts.
Article continues below advertisement
Davenport was convicted of the felony charge of manslaughter in the first degree and was sentenced to 20 years in state prison as well as five years of supervision post-prison release.
RadarOnline.com previously obtained exclusive surveillance video of Hines' gruesome death.
The uncovered footage obtained by RadarOnline.com showed Hines and Davenport stepping out of a car in upper Manhattan slashing her throat with a knife.
Davenport then straddled the helpless woman as she flailed her legs and arms, fighting for her life. Three young men entered the shot as Davenport plunged the knife into Hines' torso.
The disturbing video shows two of the men walking into the street feet away from the crime, but failing to help as Hines screamed: "Please! Please! No more!"
In the midst of the slaying, Davenport coldly responded: "I'm doing this for you, God! Get out, devils! I cast you out, devils, in the name of Jesus Christ."
Article continues below advertisement
Footage shows Hines helplessly kicking her legs in desperation until she flips onto her stomach and Davenport chillingly uses both hands to sink the knife into her back. He shouted, "Thank you, God. Thank you, God. I love you, God."
Freeman spoke lovingly of Hines after her death.
"Her star will continue to shine bright in our hearts, thoughts and prayers. The world will never know her artistry and talent, and how much she had to offer. Her friend and family were fortunate enough to have known what she meant as a person," Freeman continued.
After court, a lawyer for Freeman insisted he never molested his step-granddaughter.
"In fact, the jury found that the only person who made that absurd and false statement, Lamar Davenport, to be a liar and a drug-crazed murderer," an attorney told RadarOnline.com.
"Moreover, Ms. Hines' diary reflected nothing of the sort and instead reflected a considerate relationship between her and Mr. Freeman."
We pay for juicy info! Do you have a story for RadarOnline.com? Email us at tips@radaronline.com, or call us at (866) ON-RADAR (667-2327) any time, day or night.