Missing Baby Elaina's Father Tells Nancy Grace About Frightening Moment Her Mother Claims She Disappeared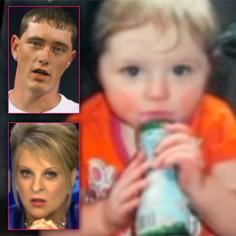 Baby Elaina Steinfurth has been missing for over two weeks and her distraught father described the harrowing moment her mother said she was gone to acid-tongued Nancy Grace and RadarOnline.com has the video of his emotional recounting of the day.
Terry Steinfurth told the HLN TV show host about the day his baby mama Angela Steinfurth refused to hand the baby over to him in Toledo, Ohio and how the day exploded with fights.
Article continues below advertisement
Elaina, 18-months-old, was described by Nancy as a baby who "has trouble walking and trouble talking," and she has been missing since June 2, 2013. Terry said he went to Angela's house to pick up his older daughter Kylie, 4, and then Angela would not bring their youngest child out to him.
"She was sitting on the porch with her boyfriend. Smoking a cigarette," he said.
"I asked her to go into the house and get the baby she told me she had just laid the baby down for a nap and she wasn't waking her up," Terry told Nancy. He said her boyfriend started "yelling and screaming" at him and took off his shirt to fight with him, but he didn't know why he wanted to fight.
Angela has been arrested and was arraigned on one count of child endangerment for an incident that took place the day Elaina disappeared.
According to court documents, she admitted to the police that her daughter sustained a serious physical injury but she did not seek medical treatment for her.
Terry's father said he was with his son the day Elaina went missing and described Angela saying she had discovered the baby was not in the house."She came back outside and said the baby wasn't in the house, the baby was gone, someone took the baby," Terry Steinfurth Sr. told Nancy.For any tips on Elaina Steinfurth call 1-800-CALL-FBI.
Nancy Grace airs on HLN evenings at 8pm ET sharp.