Miley Cyrus' Latest Outrage: Wild Child Pop Star Spits Three Times On Fans During Concert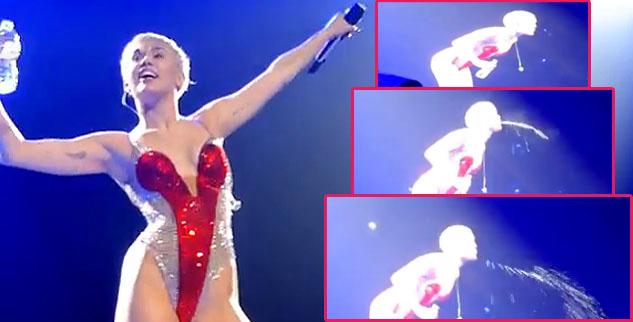 Miley Cyrus has appalled the world with her tongue-wagging twerking ways but now there's a new outrage--she actually spit on fans during a recent concert in Tampa!
As a YouTube video shows, Cyrus, wearing a skimpy, glittery leotard to perform, prowled around on stage, asking the crowd, "You guys having a bad ass time?"
Moving to the opposite side of the stage, the "Wrecking Ball" singer, 21, asked, "What about you guys?"
Article continues below advertisement
Then Cyrus took a big swig out of the water bottle she was holding and spit on the fans in the front rows--not once but three times!
Shockingly, some members of the audience cheered!
And a woman known as Carlee Lidemark claimed on YouTube that it was her video and that Cyrus had first pretended she was going to spit -- then actually did it when the fans egged her on. "I honestly wish she did that to my side," Lidemark wrote in the YouTube comments section.
But Cyrus might want to think twice as a woman filed a lawsuit against MAC cosmetics last year after she claimed she got herpes from a contaminated lipstick that had been used on other fans at a Rihanna concert. (However, Rihanna was not part of the lawsuit)
As RadarOnline.com readers know, Cyrus and Katy Perry recently got into a feud after the "Bangerz" star gave her an unsanitary looking kiss at her Los Angeles concert in February.
Article continues below advertisement
Perry told Australian TV, "I just walked up to her to give her like a friendly girl kiss, you know, as girls do."
But Perry, 29, said she was stunned when Miley went farther, commenting, "God knows where that tongue has been. We don't know. The tongue is so infamous!"
Cyrus then took to Twitter to slam her fellow pop star by taking a potshot at her ex-boyfriend, John Mayer, saying, "we ALL know where THAT tongue been."