Survivor Michelle Knight Forgives House Of Horrors Captor Ariel Castro, Even Though He Beat Her Until She Had Four Or Five Miscarriages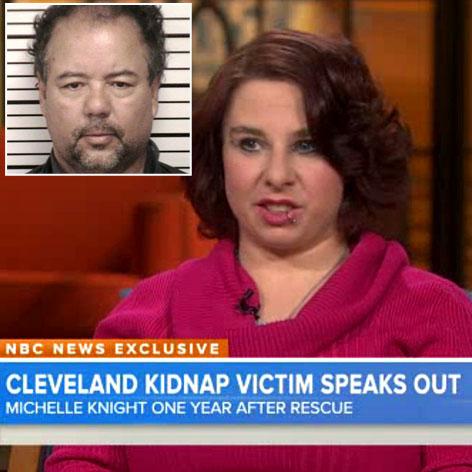 One of the three women rescued a year ago from more than a decade locked away and chained up in Ariel Castro's Cleveland house of horror appeared on the TODAY Show Monday morning and unbelievably revealed she forgives her captor — despite the fact that he beat her so severely every time he got her pregnant that she suffered four or five miscarriages.
Michelle Knight opened up to TODAY Show anchor Savannah Guthrie about her forgiveness for the man many described as a monster, who also kidnapped and held Gina DeJesus and Amanda Berry.
Article continues below advertisement
Castro, 53, hanged himself in his prison cell after he was sentenced to life in prison without the chance of parole plus 1,000 years — and Knight said she "felt sad" when she heard of his suicide.
As the one-year anniversary of her escape approaches, Knight said, "It's just a day that I wish would go past, and I could live my life.
"Every day I feel so much more free. I'm able to do anything and everything I always wanted to do."
Knight was 21-years-old when she was captured in 2002 and since her May 6, 2013, rescue she doesn't appear to stay in close touch with the two other women, Berry and DeJesus.
"Right now we're all healing in our own way. Sometimes relationships, including friendships, don't last that long," she said.
"We were just in each other's lives for a short time and maybe, just maybe one day, we'll get back together."
Article continues below advertisement
And despite the torture the three women endured, Knight said she forgave Castro.
"If I did something wrong, even if it was a small thing, I'd want someone to forgive me. So I can forgive him for what he done wrong, because that's the way of life," she said.
In fact, she even said she was sad to hear of his death just one month into serving his prison sentence.
"I was saddened about it, but also confused at the same time. Like why would he hurt his children like that? Why would he leave them?" she said.
"I felt sad. He didn't have to do that to himself, he didn't have to hurt himself. But then I come to the realization he did it because he couldn't face what he did… You don't have to fill your heart with hate."
Visit NBCNews.com for breakinghttp://www.nbcnews.com">breaking news, world news, and news about the economy
"I want everybody to know I'm doing just fine and everything is really exciting right now," Knight said.
Article continues below advertisement
"I'm singing and I'm training to be a boxer. And I just recorded my first song and it's just awesome, an awesome life right now."
During another interview with Guthrie that aired on Dateline over the weekend, Knight expressed anger towards Castro and her own thoughts of suicide when things were at their worst.
"There's anger at points in time, yes," she admits. "There were also suicidal attempts, because you get to a point where you feel like it's hopeless."
"There was times where me and Gina just wanted to hit him over the head with a frying pan," she continued. "And just run out the door, but we wasn't a hurtful person and we couldn't do it. So we was like, we gotta find some other way."
Knight told Guthrie that every time Castro got her pregnant, she feared for her life because he would severely beat her, causing her to miscarry — and she says it happened four or five times in today throughout her 11 year stay in the Cleveland basement.