Jim Bob Duggar Tells Josh & Anna: 'You've Passed The Average Number Of Kids In American Families'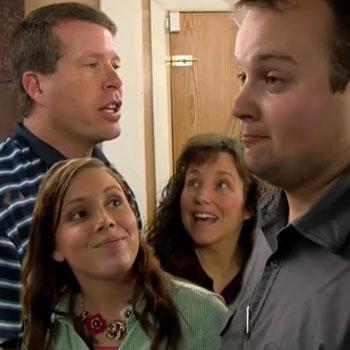 Josh and Anna Duggar have a long way to go to catch up to his parents' 19 children, but they're well on their way now that they're expecting their third and they've even surpassed the number of children in the average American family!
As the 19 Kids & Counting stars reveal the gender of their baby to their relatives, with mom Michelle guessing a girl and dad Jim Bob saying they're "probably due for a boy," he drops the statistic that with their third baby they're above average.
Article continues below advertisement
"You passed the average number of children in America now," Jim Bob says to Josh and Anna as they reveal they're having a boy, who will join their two older children, daughter Mackynzie and son Michael.
Anna comes from what she says is a "small family" of eight siblings, and she and Josh are also practicing the same family planning his parents do with their "we will take whatever God gives us" plan.
"It's going to be equally just as much of a blessing," Josh says about the gender of the baby.
"Our kids are just the greatest blessing so whatever God brings us we'll be excited."
19 Kids & Counting airs on TLC Tuesday, April 2 at 9/8c.