'I Felt A Slap In The Face!' Wendy Williams Weighs In On Teresa Giudice & Melissa Gorga Feud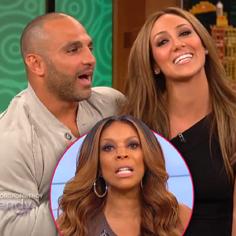 Article continues below advertisement
"I don't know," Gorga tells her and then half-heartedly defends her husband's family.
"No I don't know the situation. They say they're not. They're ready to fight it," she says of the 39 charges they're facing.
Taking the high road, Melissa says that she empathizes with her Teresa.
"Listen will we ever be absolutely best friends? I wish we would. We're trying for the kids. She's in a difficult situation, I'm just here to support."
The RHONJ star says their fights seem "so petty compared to…" and Wendy jumps in with "50 years of prison?"
When Teresa and Joe appeared on Watch What Happens Live with Andy Cohen they said that the Gorgas would NEVER have custody of their children if they are both put behind bars at the same time.
"I felt a slap in my face," an outraged Wendy exclaimed, and Melissa agreed.
"I think it was a dig. I feel like it was a petty comment. Wherever they go it's fine. It is what it is."
However, Melissa doesn't think she's going to be drawn into the legal battle, telling Wendy she doesn't think she'll be called to testify and that she hopes the relationship with Teresa can be repaired.
"I always try to put two feet forward."
youtube=https://www.youtube.com/watch?v=yiGoJirPULI&w=420&h=315