Pitchy Much? Melissa Gorga's Bad Singing Strikes Sour Note On RHONJ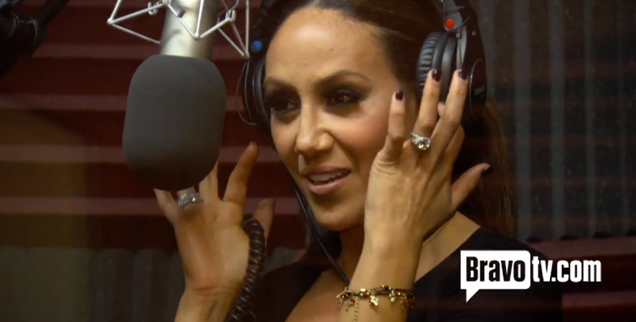 Melissa Gorga struck a sour note on The Real Housewives of New Jersey on Sunday night as she tried to jumpstart her singing career.
Melissa, who has previously released a few singles, is now serious about becoming a star in the music business.
Listen! 'RHOP' star Wendy Osefo breaks down the "most intense fight in the show's history" in under 2 minutes.
But after consulting with Justin Timberlake's respected manager, Johnny Wright, on RHONJ, Melissa embarrassed herself by sounding thoroughly out of tune -- and botching the lyrics!
Article continues below advertisement
It all started on Sunday's episode when Wright met with Melissa and her husband, Joe Gorga, about the possibility of his representing the sexy housewife.
"He's heard some of my songs and he wanted to meet me," Melissa told the cameras.
"Why do you want to do this?" Wright asked her.
"I love it. I have a passion for it," she said.
To Wright's surprise, her loyal husband Joe chimed in, "She's a thoroughbred!"
Melissa bragged, "You oughta hear me in the car."
Wright said, "The reason I ask is, some people discover later on in life that all of a sudden, they want to be a star but it wasn't something they did when they were young."
But Melissa insisted, "I've been doing this for two years: I'm that girl who can do it all. I can still be a good wife and mom and still pursue my dream and do something that I love."
Article continues below advertisement
Wright interrupted the housewife, saying, bluntly, "Hold that statement for a minute. I hate to be extremely rude when I say this, but I'm going to give it to you -- the music business don't care about your family.
"They don't care about anything other than the fact that we put money into you. We expect our money back plus a hundred times on that. So I don't want to hear that so-and-so is sick and I can't do this promo run. Big reward has big sacrifice," he said.
Joe said, "We'll do what we gotta do."
Wright said, "I'm hearing that from you. I'm not hearing that from her."
Melissa then backpedaled to the music manager, explaining, "Of course I'm willing to sacrifice but the question is, how much because there's a thin line between passion and giving up family for passion."
In a confessional segment, Melissa conceded, "Singing's my passion, yes, I want it, but I'm a wife and a mother first."
Article continues below advertisement
Wright said her music has to represent what her life is now.
Later came the real test when Wright showed up at Melissa's recording studio with Justin Thorne, the songwriter of a pop tune called Never Let Me Go.
"I just got this song yesterday and I have three kids so I didn't have that much time to rehearse," she sighed in confessional.
"But there's no time to be nervous or scared," the determined housewife said. "Let's go do this!"
"I'm a little rusty, Justin," Melissa admitted to the singer/songwriter.
"It's a little static-y," she then complained about her headphones.
It only got worse from there, as Melissa squealed "wrong words!" after messing up the lyrics and sounding pitchy.
She then seemed to blame her bad performance of "Never Let Me Go" on the headphones shaking!
"You're making me nervous a little bit!" the TV reality beauty whined to Wright.
Article continues below advertisement
After that, Wright took her aside for some hard truth.
Wright said, "Our involvement is because we really believe you're a singer and so for us to put our reputations on the line, we're gotta make sure we get it right.
"We just need to sit in the studio and go through all the music and have a conversation about where we need to go.
"You'll have to leave home on a flight to Orlando. Let me put some of my team around you. This is the next step to really showing everybody you're serious about being an artist in the music business," he told her.
In her confessional, Melissa sighed, "It's a lot of hours. He's asking me to go to his compound in Orlando. I don't want Johnny and Justin to look at me and be like, 'Oh, my God,' and under their breath, 'What are we doing?'"
Wright told her, "The after school sessions are over. This is the real world now."
But, as a promo for NEXT week's episode showed, the truth is hard, as Melissa is in the studio singing again -- and admitting, "It sounds like a dead dog!"
Article continues below advertisement
Also on Sunday's episode, as RadarOnline.com has previously previewed, Joe and Melissa confronted acquaintance Penny Drossos about her rumor-mongering about the couple's marriage.
And she admitted Joe's sister-in-law, Teresa Giudice, was behind it!
That is sure to cause the Gorga/Giudice feud to boil over yet again, ruining the atmosphere during this week's episode, in which the families got together for the first time in four years to have lunch with Joe and Teresa's mom, Antonia.
Antonia preached that blood is thicker than water and told her daughter pointedly that her tongue was longer than Melissa's, meaning, she has a big mouth!
Joe Gorga and Teresa's husband, Joe Giudice, kissed at the table and so did Melissa and Teresa.
"I want to see you guys all the time like that," Antonia beamed.
As RadarOnline.com previewed, there was even more housewife harmony as Jacqueline Laurita got Teresa's advice on a big speech she had to do for an autism charity event .
Article continues below advertisement
Viewers saw Jacqueline overcome her nervousness to become more vocal about the disorder that has affected her and husband Chris Laurita's son Nicholas, 3.
Jacqueline stammered when she started the speech but finally choked out the words.
"A year ago, I worried if my child would ever say the words, 'I love you' again," she told the crowd.
"He gave me the most precious gift when he said, 'Mommy, I love you.'
"In that moment, I realized if he could say that, he was capable of achieving so much more.
"Don't ever, ever give up on your child," the emotional housewife said, getting applause from the crowd and kudos from her husband.
"I'm not an expert, just a mother going through it," Jacqueline said in confessional. "I hope I can be helpful."
Meanwhile, in the funniest moment on Sunday's episode, Juicy Joe and Teresa's cousin, Rosie Pierri, had a steak together when she asked if Joe wanted a son to add to the Giudice brood of four girls.
Article continues below advertisement
As RadarOnline.com has previously reported, Joe and Teresa have discussed surrogacy.
And on Sunday night's RHONJ, Juicy admitted he wouldn't mind trying for a boy with a surrogate mom -- but didn't seem to know how it all worked!
"I'll be honest with you, if she'd want to do that other thing, if we both planted our eggs in a woman and let her carry it," Joe said.
"It's not going to change the baby's looks, right?" Juicy asked Rosie.
He then said, confused, "Do I have eggs, too -- or what do I have?"
"I'm not very good at medical stuff," Rosie laughed.