Mariah Carey Caught In Lip Synch Scandal On American Idol Finale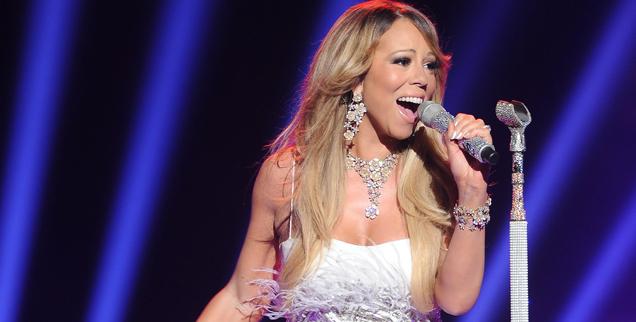 Mariah Carey is the latest celebrity to be accused of lip-synching and the backlash was swift against the diva after her questionable performance on the American Idol finale.
Mimi took the stage and wowed the live audience with a medley of her most famous hits including Hero, Make it Happen, My All, Vision of Love, We Belong Together and her new single Beautiful, but her spot-on performance was quickly questioned.
Article continues below advertisement
Twitter lit up with criticism, claiming that Mariah wasn't actually singing live and was lip synching her way through the songs.
"I'm pretty sure @mariahcarey performing #Beautiful on #Idol was lip syncing ooo haha the international diva????????" was a slam against Mariah, along with thousands of other hits.
"@MariahCarey Lip syncing?, nice, since your a judge of "live" singing and all, not that you would know anything about "live" #millivanilli," and the hits continued.
"Mariah Carey was lip syncing last night and still sounded horrible...how TF?"
"Disappointed in @MariahCarey and her lip syncing on the show and as a JUDGE! More disappointed that the @AmericanIdol show allowed it!"
youtube
Mariah didn't let the scandal grow and promptly defended her performance saying she sang all of her songs live.
"No, she did not lip-sync! She sang 3x and even sang additional songs for fans in between commercials." her rep exclusively told Entertainment Tonight.
Do you think Mariah is telling the truth or was she lip-synching? Tell us in comments!