It's Getting Hot In Here! Nicki Minaj Bashes Mariah Carey With Heated Twitter Rant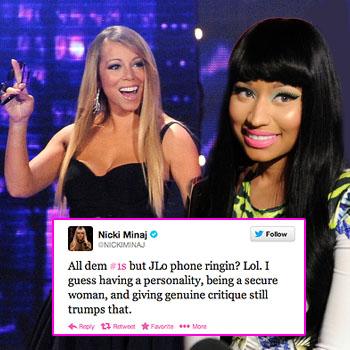 The feud between Nicki Minaj and her American Idol co-judge Mariah Carey shows no signs of slowing down, RadarOnline.com reports.
Minaj, 30, attacked the Always Be My Baby singer on Twitter Thursday morning calling her bitter and insecure with no personality.
The current rumblings between the two was fuelled by a series of heated exchanges on American Idol Wednesday night when Mariah, 43, taunted the Super Bass star for never having a number one single on the Billboard Hot 100 chart.
Article continues below advertisement
"All dem #1s but JLo phone ringin? Lol. I guess having a personality, being a secure woman, and giving genuine critique still trumps that," she vented.
As RadarOnline.com previously reported, Nicki and Mariah's feud has been escalating in recent months. During a live April 17 show, Nicki sarcastically told Mariah to "simmer down, sir" in a British accent after a disagreement over finalist Kree Harrison's rendition of The Black Crowes' She Talks to Angels, which Mariah thought was off-the-mark.
"I disagree … that was the best performance of the night," Nicki said, to which Mariah chimed in, "I wasn't saying she was awkward … you don't really disagree with me."
"No, I do and I'll explain," Nicki said — at which point Mariah tried to interject again — and she told her, "Simmer down, sir."