Exclusive
J.LO Approached FOX To Rejoin 'Idol' In 2014, 'Never Suggested' She Replace Mariah Carey Midseason: Source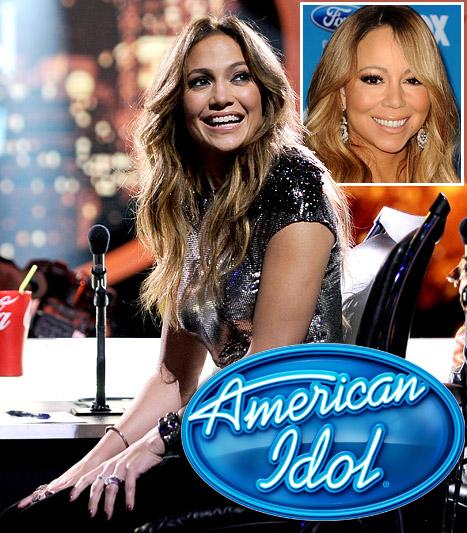 It was Jennifer Lopez - not FOX - who initiated talks for her to return to the American Idol judging panel, RadarOnline.com has learned.
"J.LO had her manager Benny Medina approach FOX to alert them of her interest in rejoining Idol," a source close to the situation revealed.
The 43-year-old pop superstar, the insider said, realized after her 2012 "Dance Again" world tour that she no longer wanted to endure the grind of touring and the constant travel it required.
Article continues below advertisement
Instead, Medina told FOX that J.LO wanted to be grounded in Los Angeles and have a settled life for herself and her five-year-old twins, Max and Emme, according to the source.
"Idol allowed her to do that," the source added.
"The twins will enter kindergarten in the Fall and stability is important for them - and J.LO - at this time. She's looking for possible schools for the kids in Los Angeles at the moment.
"Plus, if she's living in L.A. full-time she will be able to focus on her film career and other ventures, including her fashion business."
Idol went into panic last week when it emerged executives were considering replacing Mariah Carey with J.LO midseason in an attempt to boost faltering ratings.
But the plan fell apart when Carey's team threatened to take legal action against the show, according to The Hollywood Reporter.
Article continues below advertisement
A source clarified to RadarOnline.com that JLO "never suggested" to FOX that she replace Carey, 43, who has struggled to build chemistry with season 12 judges Randy Jackson, Nicki Minaj and Keith Urban.
"If there was a 'secret plot' to replace Mariah, as has been suggested, then it was all FOX," the source said, adding: "JLO's approach was about the future. Not the present. She's talking about next season."
J.LO is slated to appear on ratings-challenged Idol on May 16 to debut her new single.
A rep for FOX denied there was anything more sinister about her appearance, insisting all the talk about a change was "just another ridiculous Idol judge rumor, likely started by talks of Jennifer performing on the finale."
When J.LO quit Idol last June -- she earned $20 million plus bonuses on her second season -- she conceded just how difficult she found the decision to quit the show along with Steven Tyler.
"I could do Idol for the rest of my life," she admitted, at the time.
"I've never felt so much a part of a family of something I've been working on as I did with Idol. I didn't know I'd be moved so emotionally by working on the show and working with the contestants."