Man Murders Wife, Then Asks TV Station To Post It On Its Facebook Page!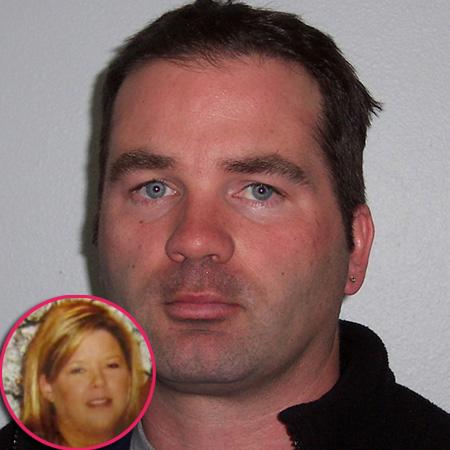 One man's over sharing on social media – and brutal act of violence – has landed him behind bars.
Authorities say Tony James Barrett – who apparently didn't have his own Facebook account -- called Seattle television station KOMO-TV late Wednesday to confess to a horrible crime and to ask the staff there to post it on its Facebook page.
In his call, Tony specifically told the ABC affiliate, "I just killed my wife ... I want you to put it on your Facebook."
Article continues below advertisement
The man told the KOMO assignment desk that he and his wife had been together for 28 years.
"It was supposed to be 'til death do us part, but she wouldn't .... " he said.
The man would not reveal where his wife's body could be found, but said, "They'll find her tonight or by tomorrow."
The assignment desk then asked the caller if there was someone who could be notified, but the man said, "No, I'm not going to be here much longer."
When the station asked if they could contact police, the caller hung up the phone.
KOMO-TV staffers immediately alerted police, who launched a search for the woman, 42-year-old Sara Barrett.
Her body was eventually found around 6 a.m. Thursday in a room in the Motel 6 in Tacoma, Washington, according to Ed Troyer, a spokesperson for the Pierce County Sheriff's Office.
Police in Tacoma later tracked down her husband, Tony, who led officers on a high speed chase approaching 100 mph.
Article continues below advertisement
Cops eventually used spike strips to stop his car. The suspect then attacked officers with a crowbar, and officers used a police dog to subdue and detain him, Troyer said.
KOMO-TV did eventually post news of the murder on its Facebook page and it got dozens of "Likes." (Really?!?)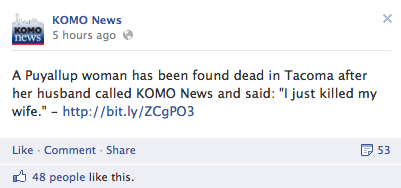 KOMO-TV News Director Holly Gauntt said the station gets a lot of strange calls to its assignment desk.
"We tend to get a lot of odd calls. She realized this guy was very articulate and serious," Gauntt said.
The Tacoma School District confirmed Thursday that Tony Barrett had worked for the district since July 2001; he was a warehouse specialist, delivering products to Tacoma schools.
On Thursday, Sara's youngest son, Tyler Barrett, talked to KOMO-TV about the loss of his mother.
"It hasn't even quite hit me yet. It's all a big blur," he said. "It's a tragedy that I could never imagine. She was just so kind. She gave more to others than herself."
Tyler also spoke about his father, Tony.
"He's just a sick man. A sick man. I'm ashamed he's my father," Tyler said.
Watch the video on RadarOnline.com
Barrett had a history of violence against his wife. In 2007, according to court records, he was charged with attacking his wife for unexplained reasons in 2007, holding a pillow over her face until she nearly suffocated.