Justice For Morgan Freeman: Step-Granddaughter's Killer Sentenced To 20 Years Prison
Justice was finally served for Morgan Freeman.
The man who brutally murdered his step-granddaughter was sentenced to 20 years behind bars on Thursday, January 17, 2019 after he was found guilty of stabbing her 25 times while high on drugs and booze.
E'Dena Hines was just 33 when she was killed in New York City in 2015 by her boyfriend Lamar Davenport.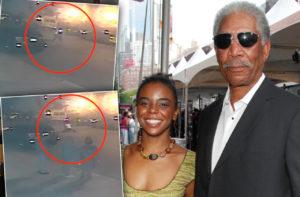 Article continues below advertisement
Davenport was convicted of the felony charge of manslaughter in the first degree and was sentenced to 20 years in state prison as well as five years of supervision post-prison release.
Manhattan District Attorney Cyrus Vance Jr. spoke about Freeman's step-granddaughter.
"Ambitious and driven, E'Dena Hines was deeply loved by family and friends before her life was brought to a horrific and tragic end by her boyfriend, Lamar Davenport," he said in a statement released after the sentencing.
"I would like to thank the prosecutors in my office for securing a prison sentence commensurate with his extraordinarily violent crime, and offer my sympathies to Ms. Hines' loved ones as they continue to mourn."
The uncovered footage obtained by RadarOnline.com showed Hines and Davenport stepping out of a car in upper Manhattan in what appears to be a heated argument.
Four minutes later, a panic-stricken Hines is seen running down the middle of the street with Davenport, then 30, in pursuit.
Article continues below advertisement
Davenport then knocks Hines to the ground by sweeping her legs out from beneath her before slashing her throat with a knife.
Davenport then straddles the helpless woman as she flailed her legs and arms, fighting for her life. Three young men entered the shot as Davenport plunged the knife into Hines' throat.
The disturbing video shows two of the men walking into the street feet away from the crime, but failing to help as Hines screamed "Please! Please! No more!"
In the midst of the slaying, Davenport coldly responds: "I'm doing this for you, God! Get out, devils! I cast you out, devils, in the name of Jesus Christ."
Footage shows Hines helplessly kicking her legs in desperation until she flips onto her stomach and Davenport chillingly uses both hands to sink the knife into her back. He shouted, "Thank you, God. Thank you, God. I love you, God."
Freeman spoke lovingly of Hines after her death.
Article continues below advertisement
"Her star will continue to shine bright in our hearts, thoughts and prayers. The world will never know her artistry and talent, and how much she had to offer. Her friends and family were fortunate enough to have known what she meant as a person," Freeman continued.
RadarOnline.com readers know Hines was the granddaughter of Morgan's first wife, Jeannette Adair Bradshaw. Although Morgan was not related to Hines by blood, he agreed to raise her with his second wife, Myrna Colley-Lee.
We pay for juicy info! Do you have a story for RadarOnline.com? Email us at tips@radaronline.com, or call us at (866) ON-RADAR (667-2327) any time, day or night.