Now That's True Love – Man Married For 67 Years Still Buys BYU Football Ticket For Wife After Her Death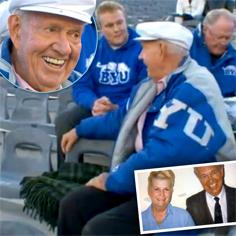 Love never dies, and certainly not during Brigham Young University football season.
Keith Fillmore, 87, attended almost every single BYU football and basketball game with his wife during their 67-year marriage but in a heartwarming gesture, ever since her death he continues to purchase a ticket for her right next to him to keep her memory alive.
"I met my wife the first day of college," Keith said about Marceen, whom he married and had three children, eight grandchildren, and three great-grandchildren.
Article continues below advertisement
"I came back from the Army, and there she was, Ms. South Carolina: beautiful," he told Fox 16 News in Salt Lake City, Utah about their time at BYU during the 40s.
He was the student body president at the Mormon university and has always been a sports fan of the Cougars, attending hundreds of games with his wife before she passed away 16 years ago. Despite her absence, he still buys her a ticket, and explained why he spends the extra money.
"I think it's called love," Keith said. "Maybe it's love, my sweet companion which is true, and also it's to support a cause I believe in."
He shared a story of his experience with the empty seat by his side.
"Once I was at a basketball game and had my ticket for her too, and some gentleman said, 'Who sits here?' I said, 'My sweetheart' and he said, 'Where she at?' I said, 'She's in paradise.' He said, 'Well, can I sit there?' I always carry her picture, and I said, 'Let me ask her' and I took out the picture. I said, 'Sure you can!'"
Article continues below advertisement
His attendance is heartwarming for fans who count on seeing him at the games, and his allegiance is legendary.
"I come to see him one more year," Jeff Gustin told Fox 13 News.
"Every year leading up to this I'm thinking, 'What happened to Mr. Fillmore? Is he gonna be there?' and he comes smiling up the stairs, so it's gonna be a good game."
Keith said that his affection for his late wife is on par with his love of BYU sports, telling the station, "Oh yes, I think we're synonymous."
Check out the touching video of Keith Fillmore talking about his love for Marceen and BYU.