Inside Malia's Wild Night—Prez's Daughter Sneaks By Secret Service To Smoke 'Pot'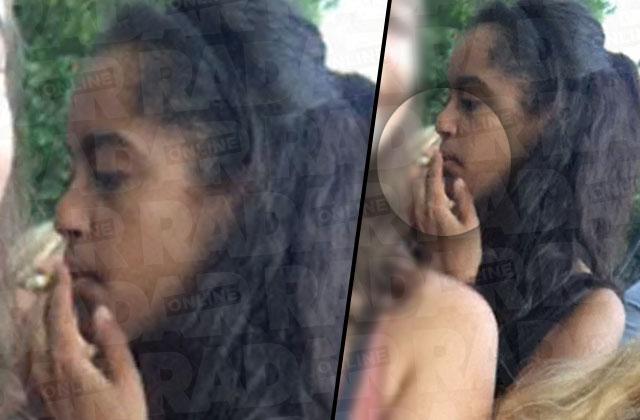 As RadarOnline.com exclusively reported, first daughter Malia Obama, 18, was caught red-handed smoking "pot" while twerking away at Lollapalooza in Chicago.
Eye-witness, Jerrdin Selwyn, also 18, spotted the action first-hand, telling Radar that she saw Malia take a hit of what looked like marijuana during the Bryson Tiller set on July 31.
"I caught Malia smoke pot and I have the pictures to prove it," she told Radar. "She was only a few feet away from me and you could smell the marijuana smoke coming from the cigarette she took a hit on."
Article continues below advertisement
"I saw some young guy hand her a cigarette; she took at least one hit on it. She had it in her hand for about one minute then gave it back to him," Selwyn continued. "She was literally only a few feet from me. . .and she was the only person who had any form of pipe or cigarette that I could see."
"All during this time, the Secret Service was in the background, I'm not sure whether or not they saw her take a hit on a joint," she added.
Later, Selwyn says she saw Malia talking with the same "young guy" as before.
"I saw the same guy sitting in a chair with Malia crouched down in front of him near the fencing area," she revealed. "I walked past them on my way out and I heard Malia ask him, "Do you want to go smoke?'"
"I didn't hear his response but he got up after a few seconds and they walked off together," Selwyn said.
Of course, this isn't the first time the POTUS' daughter has gone buck wild. As RadarOnline.com was first to report, Malia had been partying the week away instead of attending the Democratic National Convention.
To make matters worse, Radar obtained an exclusive video of the teenager partying in Amsterdam early last month.
She was celebrating her birthday at The Sugar Factory, and a source claimed that "everybody got drunk really fast."
"The only thing that bothers me about Malia smoking pot, is there are several colleges kids out there doing the same think Malia is doing but they are either getting ticketed or put in jail," Selwyn told Radar. "She gets to slide by because she is the President's daughter."