Scotland Yard: Cell Phone Findings Might Provide Insight Into Madeleine McCann Investigation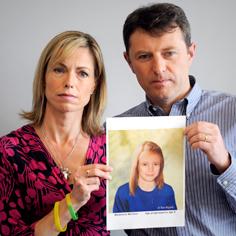 In a new development in the case of Madeleine McCann, the then-3-year-old who went missing during a May 2007 vacation with her family in Portugal, Scotland Yard officials say documents spanning more than 40,000 pages containing previously-unseen cell phone info -- of those who were staying at the resort at the time -- might be the key to open the mysterious case.
"There is new information not previously presented," according to a statement from Scotland Yard. "Fresh, substantive material upon which to make an appeal. It's substantially different.
Article continues below advertisement
"It's not just a bland 'Can you help us?' appeal, there is some different material and a different understanding."
Watch the video on RadarOnline.com
Visit NBCNews.com for breaking news, world news, and news about the economy
As we previously reported, Madeleine's parents, Kate and Gerry McCann, were interrogated as suspects in Portugal, but later cleared of any wrongdoing.
Since their child's tragic disappearance, they have authored a book about their experience, and plan to appear on TV Oct. 14 to plead for their daughter's safe return.