Macaulay Culkin Shows Off His Rock Star Credentials, Performs Beach Boys Classic 'Kokomo'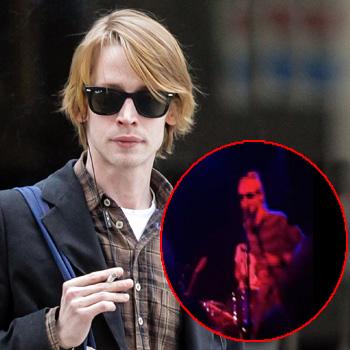 We should've known that the kid actor who sang White Christmas in front of a mirror in Home Alone would someday become a rock star!
Macaulay Culkin wowed UK fans with a surprisingly good rendition of the Beach Boys classic Kokomo in Bristol, England on April 10 -- and RadarOnline.com has the video.
The former child star, who was reportedly battling heroin addiction, joined his good pal Adam Green on stage at the Thekla music venue to add vocals to the cheery number wearing a check shirt, skinny jeans and black shades.
Article continues below advertisement
A healthy-looking Culkin, 32, received a rapturous applause from the audience at the end of the performance as Green thanked him for helping him out on the cover.
As RadarOnline.com previously reported, one year after shocking photos of Culkin looking deathly gaunt surfaced, the actor appeared on the mend in pictures taken during the Christmas holidays.
Bundled up in winter wear, the actor smoked a cigarette as he carried his shopping bags around the city and stopped for a little lunch at Taco Bell.
It was a rough year for Culkin, who sky-rocketed to international fame around 22 years ago when Home Alone hit the big screen, battling reports of heroin addiction as well as depression — both of which he denied.
But, judging by this new clip, he's doing better than ever.
youtube