Lisa Vanderpump Rips Adrienne Maloof For 'Emasculating' Husband & Explains Why She's 'Disgusted' By Faye Resnick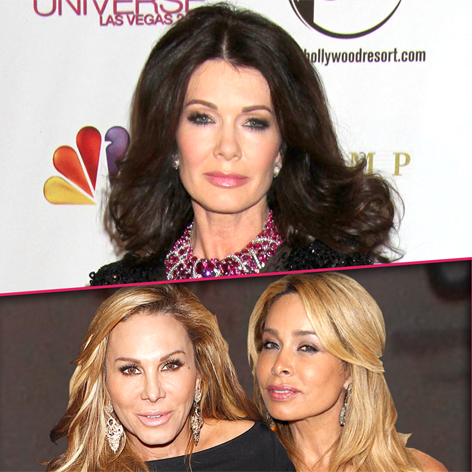 Restaurant owner Lisa Vanderpump serves out a few platters of drama in her latest Bravo blog, calling out both Adrienne Maloof (for emasculating husband Paul Nassif) and Faye Resnick (for her controversial comments), and we've got a recap of it all for you right here on RadarOnline.com.
The Dancing with the Stars beauty wrote that she passed on going to Adrienne's promotional bash for her vodka because she "wasn't welcome there, in all honesty.
Article continues below advertisement
"Her chef has been vicious about me on social media, and in the press, numerous times and was clearly directed by somebody," Lisa wrote. "Also, Adrienne, I can no longer regard in the same way … I viewed with sadness the patronizing manner in which she continues to address" her now ex-husband Paul Nassif.
Lisa wrote she was baffled by Adrienne's "efforts to emasculate" Paul, which were well-illustrated throughout Sunday's episode, calling Paul "basically, a good guy," and forgiving him for past issues they had because she knows he "was coerced."
Lisa wrote that after she "voiced a modicum of support in the midst of some serious allegations" against Paul, he "apologized profusely, and has repeatedly come to my restaurants and attempted to resolve things."
That brought things to Faye, whose successful play for airtime by interjecting herself into the discussion on Sunday's show "disgusted" Lisa, as she believed Faye "was looking for trouble."
MORE ON:
The Real Housewives of Beverly Hills
Article continues below advertisement
Lisa wrote that she was worried Faye actually believes that a lady's worth is defined by her brand of handbag.
"There are many women I would have interest in hearing their opinion of what makes a lady -- Resnick is not one of them," she wrote of the fame-seeking Faye, who first barged into the public's consciousness during the 1990s, parlaying her notoriety from the O.J. Simpson case into a book and a Playboy spread. "Her reputation precedes her."
The Real Housewives of Beverly Hills airs on Bravo Mondays at 8/7c.