Lindsay Lohan's Life Collapses: She Falls Off The Wagon, Her Life Coach Quits -- 'Yeah, F*ck It, I Screwed Up'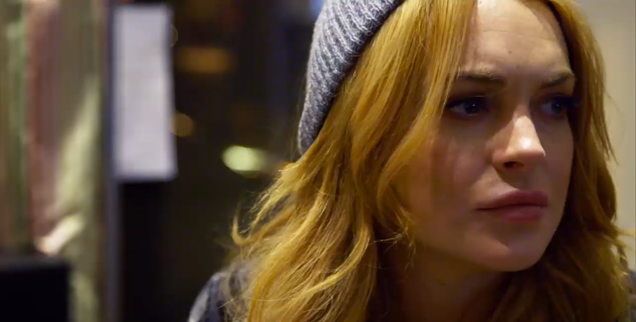 Lindsay Lohan admitted on her OWN reality show on Sunday night that she had fallen off the wagon.
"Yeah, f*ck it, I screwed up," she told the cameras about drinking again after jumping into a new relationship the month before. "The person I was seeing does drink and I had a glass of wine. And that was it but I just had so much guilt and it's okay to admit it.
"Now what do I do that it doesn't happen again?" the fresh-out-of-rehab star asked.
Article continues below advertisement
The troubled actress, 27 -- whose sobriety journey has taken center stage on the show -- admitted that she was having problems getting hired because of her reputation for unreliability.
But Sunday night's episode five of Lindsay only encouraged that feeling, as viewers saw her once again bring filming to a halt and cause havoc with personal assistant Matt Harrell and life coach A.J. Johnson.
In fact, things deteriorated so much with Johnson, that the committed professional finally had to walk away from trying to help Lohan change her life for the better.
But first, viewers saw Lohan admitting she missed her sober coach Michael Cormier while claiming she still talked to him often on the phone and knew she had to stand on her own two feet.
Then Lohan, with Harrell's help, tried to sell her old clothes to a consignment shop—but instead of making $4,500, she wound up buying other designer designer duds there!
Lohan wound up OWING money to the store as Harrell shook his head to the camera and said, "She has more high-end clothes than anybody I've ever seen. She bought more than she traded in."
Article continues below advertisement
Her mother, Dina Lohan, went shopping with the star and became a shopping enabler as the two oohed and aahed over St. Laurent and Alaia jackets that Lindsay insisted on purchasing.
"There's so much cool stuff here; this is really dangerous," Lindsay said with a smile as her shopaholic ways took hold.
Later, Lohan ordered the reality show production to stop -- again! -- as she had more clothes and furniture delivered to her New York apartment from her former Los Angeles home.
Lohan eventually agreed to bring the cameras back—but the sight wasn't pretty, as the actress slept in while deliverymen waited for her to make decisions about unloading her possessions. They wound up taking most of the stuff back to New Jersey after Lohan complained they had misplaced a couch and matching chairs.
"She's been here the whole time sleeping," one delivery guy marveled about the bad experience. "Never again."
Article continues below advertisement
Meanwhile, Liam Neeson's son, Liam Dean, came to the New York apartment to hang out with her; Lohan said it had been reported he was her boyfriend, but "he's my friend."
In the episode's most dramatic moment, Lohan had a conflict with Johnson after the life coach confronted her about her sobriety.
See Photos Of Lindsay Lohan And Lady Victoria Hervey Out Together In New York City
"When we were at dinner the other night, your mom told me that you had been drinking," she said.
Lohan asked flippantly, about Dina, known for her DUI arrest, "When we were at dinner with my mom when SHE was having drinks?"
Johnson laughed but pressed Lohan, "It kind of hit me when she told me that. I came in the next morning and found wine in your apartment."
Lohan said, "If I were drinking, it would be something I'd talk to Michael about, and I would have gone to a meeting and I was NOT drinking. And this is something I don't feel comfortable discussing on camera and I thought you of all people, as my friend, would have told me that in private."
Article continues below advertisement
When Johnson sidestepped the issue of confronting her on camera, saying Dina had told her Lohan had been drinking, Lindsay said, "That was someone who was living in the guilt of their own actions, projecting it on me and that was really uncomfortable. It was a really nice dinner and then turned a corner for no reason."
Johnson then pointed out Lohan had promised producer Oprah Winfrey that she would be honest on the reality show.
Still, Lohan said, "I'm just a little bit offended" about being questioned on camera!
Later, things got worse as she went to L.A. to take show business meetings and cut off contact with her reality show and Johnson, whom she'd promised to see there.
When Lohan came back to New York and had coffee with Johnson, the life coach told the cameras she'd set up a meeting for the star in L.A. with studio exec DeVon Franklin, but the actress didn't show up.
Article continues below advertisement
"And she was actually supposed to stay with me and I never saw her," Johnson sighed.
Lohan claimed she turned her phone off in L.A. and was evasive when Johnson wanted to know if she'd seen any "new friends" there.
Frustrated Johnson told OWN cameras that she expected an apology from Lohan—which she never got.
"I felt like there was no consideration," she said.
Watch the video on RadarOnline.com
Lohan refused to film any more scenes with Johnson at the end of the episode, and the life coach shrugged in a confessional segment, "I can't help someone when they're not open to receiving. Sometimes it's better to leave before it gets ugly so if there's a chance later to do the work and come together, then you can. But for me at this point, it's time for me to go."
Then Lohan told the cameras, "I felt like maybe she disrespected me by asking me certain things on camera that were a bit personal and when we had the moments alone to discuss it, it was okay."
Starting to cry, Lohan said, "But all in all, she was a blessing in disguise."