Lindsay Lohan Shows Off Her Comedy Chops Playing Dress Up With Her Best Girl Friend, Jimmy Fallon!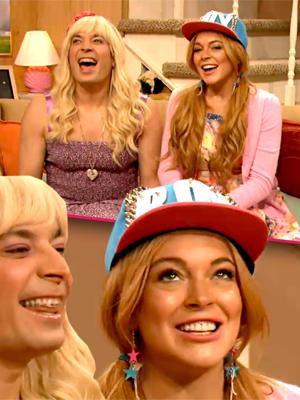 Goodbye DUI and jail, Linday Lohan is saying hello to late night stardom and playing dress up with her best girlfriend!
The rebounding starlet made a hilarious visit to Jimmy Fallon's late night talk show where he dressed up in a cute dress and long blonde wig and with the 27-year-old starlet did a sketch about a fake TeenNick show called Ew, where he introduced himself as "Sara," saying "and if you're wondering, that's S-A-R-A. No H, because H's are ew!"
Article continues below advertisement
The BFFLFR – Best Friends Forever for Life for Realsies – dish on One Direction singer Harry Styles and then talk about former Disney star Miley Cyrus.
"We should do some twerking!" Sara/Jimmy exclaims but Stephanie/Lindsay wants nothing to do with that move.
"Ew. No. Twerking is so 2-0-1-3. Nowadays it's all about scrumping!" she says.
Check out the funny video of Lindsay and Sara's great dancing "scrump-off!"