Vanderpump Rules: Laura Leigh Admits To Meth Use, Jax Dumps Her At 12-Step Meeting!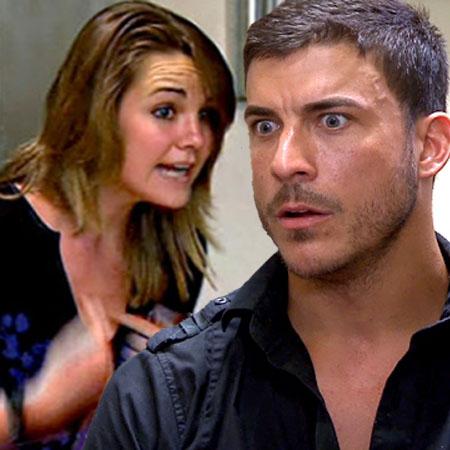 Vanderpump Rules only has one episode left, but it's going out with a bang!
After hunky bartender Jax Taylor broke up with his girlfriend of two years, self-absorbed waitress Stassi Schroeder, his rebound relationship turned out to be a little more than he bargained for, and RadarOnline.com has all the details.
Jax's new flame, wacky waitress Laura Leigh, with whom he got caught having sex with in the SUR bathroom, invited him to join her at a 12-step sober meeting, and he didn't know exactly what he was walking into!
Article continues below advertisement
"I started drinking when I was twelve and then got into meth really heavily," Laura Leigh began.
"I was robbing my family's houses, selling all of our stuff to pawn shops. It was really, really bad.
"I do everything as hard as I can do it, as fast as I can do it, and yet I'm still convinced that I can have a glass of wine," she said in the meeting.
Jax was visibly floored, not having known how severe an addict Laura Leigh was.
"I knew some of the things she's done, but I was in shock," Jax said.
"I didn't realize it was to that extent."
Just as the meeting ended, Jax decided to dump her – right then and there!
"I feel like I like you a lot, but I just got out of a two year relationship," Jax confessed.
"Spending every single day together might be a little much in the beginning."
He continued, "It's a full time job to be in a relationship with somebody that's an alcoholic. I don't want to be constantly wondering if I'm going to come home to you passed out or stuff missing from my house."
Article continues below advertisement
Later at Lisa Vanderpump's SUR Lounge in West Hollywood, Laura Leigh had a few choice words for Jax.
"You are a coward," Laura Leigh said. "I deserve out of respect a f*cking conversation."
"Do you want me to hang out with you when I'm in love with someone else?" Jax asked.
"You can't bully me out of here," the aspiring actress barked.
"But guess what? I'm not leaving. You're stuck with me. You're going to have to deal with me every f*cking day until I book a job and I'm out of here."
She badgered on, "And then when I'm walking on the red carpet and I've got my own TV show, you're going to look at me and you're going to say 'I should've been nice to her.'"
Watch the video on RadarOnline.com
Tune in next Monday night on Bravo for the season finale of Vanderpump Rules at 9/8c.