Ghost of Michael Jackson Tap Dancing In La Toya's Home, She Says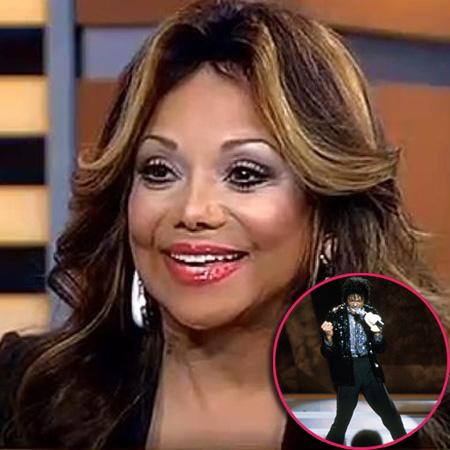 La Toya Jackson said she can sense her late brother Michael's ghost tap dancing around her home -- seriously.
The 56-year-old sister of pop's fallen king described feeling M.J.'s presence to Good Day New York anchors Rosanna Scotto and Greg Kelly Wednesday.
"It's the strangest thing because you feel something like thick around you or behind you and you're wondering -- you don't see anything, but you feel a presence … it's very interesting because it is there, it's definitely there," La Toya said.
Article continues below advertisement
The Ind.-born La Toya, who's been seen on Celebrity Apprentice and Big Brother UK, said one of her home security guards also noticed the presence, confirming her suspicion.
"When the security guard told me I said, 'You're kidding!' That made me want to know even more about hearing someone tap dance over a certain part of the house … well, Michael used to do that every Sunday for two hours.
"We go up there and no one's up there -- just tap dancing. And the dog barks at his room, the window, every single night at the same time … the dog doesn't even know that that's Michael's room, and the security didn't know. It's weird!"
Watch the video on RadarOnline.com
New York News | NYC Breaking News
La Toya was on to promote her reality show Life with La Toya, which airs Saturdays at 10:30/9:30c p.m. on OWN.