Khloe & Sisters Interrogate Jordyn About Tristan Hookup: 'I Need The F***ing Whole Truth'
Jordyn Woods is under fire! In the latest Keeping Up With the Kardashians teaser, the sisters panic after finding out about the model's drunken hookup with Tristan Thompson.
"I was getting ready for my interviews, literally same thing as the first time," says Kim Kardashian in her confessional, referencing the time she learned of Tristan's first cheating scandal, "and my friend Larsa called me to explain that a reporter that she knows was about to write a story that Jordyn and Tristan were at his home late night or until 7:00 in the morning."
Article continues below advertisement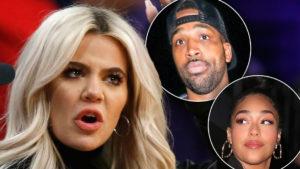 "They said they were like making out, and I immediately didn't believe it. I was like 'This can't be true,'" adds Kim, 38.
Still skeptical, however, the KKW Beauty mogul jumps on a three-way call with sisters Khloe Kardashian and Kourtney Kardashian.
"Did you talk to Jordyn?" Kim asks.
"I talked to Jordyn," says Khloe, 34. "It's really weird. She's not giving me all the information. She was like 'He was trying to kiss me,' and was like 'I can't remember if we did or didn't.'"
Confused, Kim merges in Kylie Jenner — Jordyn's former best friend, business partner, and housemate.
"So I spoke to Jordyn, she was in between his legs," says Khloe. "She said 'I can't remember if we kissed.' I said 'If you are too nervous to tell me something, you can text me,' and she said 'Ok, I'll call you in five minutes.'"
The sisters listen, shocked.
"She hasn't called me back and it's been like 20 minutes," adds Khloe.
Article continues below advertisement
"Why did Jordyn say she had to call you back?" asks Kourtney, 40.
"Exactly!" says Khloe.
"It's very weird," says Kylie, 21. "This is the first time that I'm hearing she was sitting on his lap."
"I mean I need the f***ing whole truth!" says Khloe.
In confessional Kim says Tristan, 28, is on a plane so the only person who can give them answers is Jordyn, and "she's gone radio silent."
RadarOnline.com readers know Jordyn, 21, went on Jada Pinkett Smith's Red Table Talk to confess to the cheating scandal — days after the news broke. By then, however, the sisters had caught her on her lies and cut her out of their lives. Kylie even kicked her out of the home they shared, forcing the model to buy a mansion of her own.
This week, ahead of the explosive KUWTK promo, Jordyn said she hopes to be portrayed for the person she truly is. She said that she's moved on since the cheating scandal but has no hard feelings about it being aired on the show, as everyone has the chance to share "their truth."