Kim Kardashian, Kris Jenner Get Swab Tests In Hopes Of Becoming Bone Marrow Donor For Ailing Relative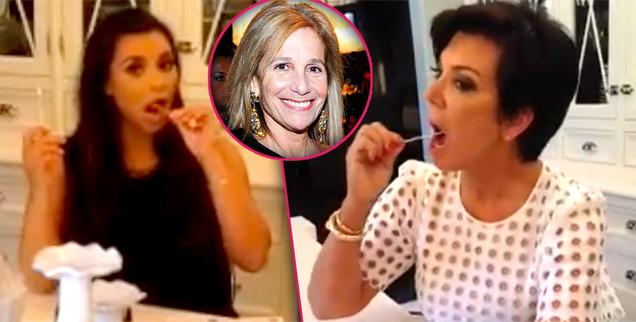 It's a side of Kim Kardashian and Kris Jenner we rarely see.
Always wheeling and dealing, striking a model's pose or shmoozing with Hollywood's heaviest hitters, the pregnant E! star and her momager took time out of her uber-busy schedule Monday to undergo a swab test as cameras rolled for her reality show, Keeping up with the Kardashians.
The tests were in hopes of helping Kim's stricken cousin Cici in her longtime battle with cancer, to see if either are compatible for a potential bone marrow transplant. (Last week, Kris uploaded a Keep Calm meme to her in Cici's honor.)
Article continues below advertisement
"I am going to try and see if I am a perfect DNA match for Cici, because she needs a bone marrow transplant," Kim said.
"We are going to see if I am a match. I hope you guys can do this, it's so easy, it's just a little swab to the cheek."
The Kardashians-Jenners have been outspoken in their hopes to help CiCi procure the proper resources for survival, as she specifically needs a donor with an Armenian background for the medical procedure to take effect.
At one point, Kim, Kourtney and Khloe Kardashian spurred a rally to get the phrase #HelpCici trending on Twitter to circulate awareness of Cici's plight and scour the earth for a potential donor.
Kim wrote in a Feb. blog that Cici has "been going through chemo for such a long time, but now the cancer is not responding to the chemo and she needs a bone marrow stem cell transplant.
"This necessary procedure would hopefully give our Cici many more years to live!"