Porsha, Who? Kordell Stewart Meets With Matchmaker To Find His Bootylicious Dream Girl!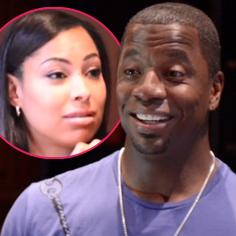 Article continues below advertisement
"Too many beautiful women in this world to be indulging in a sexual relationship with another man," Kordell said.
Next, the matchmaker asked him about why type of woman he's most interested in dating.
"She don't have to be a 10, but I for sure don't want less than an 8," the former Pittsburgh Steeler player replied, adding that he considers actress Gabrielle Union to be "an 8."
Kordell, who was previously linked to reality star Towanda Braxton, continued to describe his dream girl.
"I don't want a six… My thing is, as long as she takes care of herself. Really, that's the gist of it. Long as she takes care of herself, I'm good. I want to enjoy looking at you too."
According to Kordell, one thing that is non-negotiable is a bootylicious bod.
"An a-- is mandatory," he said.
"The body has to have curves. We all want to be psychologically stimulated. My loins get to moving," he said. "For me, it's mental for me, not necessarily always physical. But I would like to psychologically indulge."