Kim Zolciak Calls 911 After Man Breaks Into Daughter's Car, Steals Designer Purse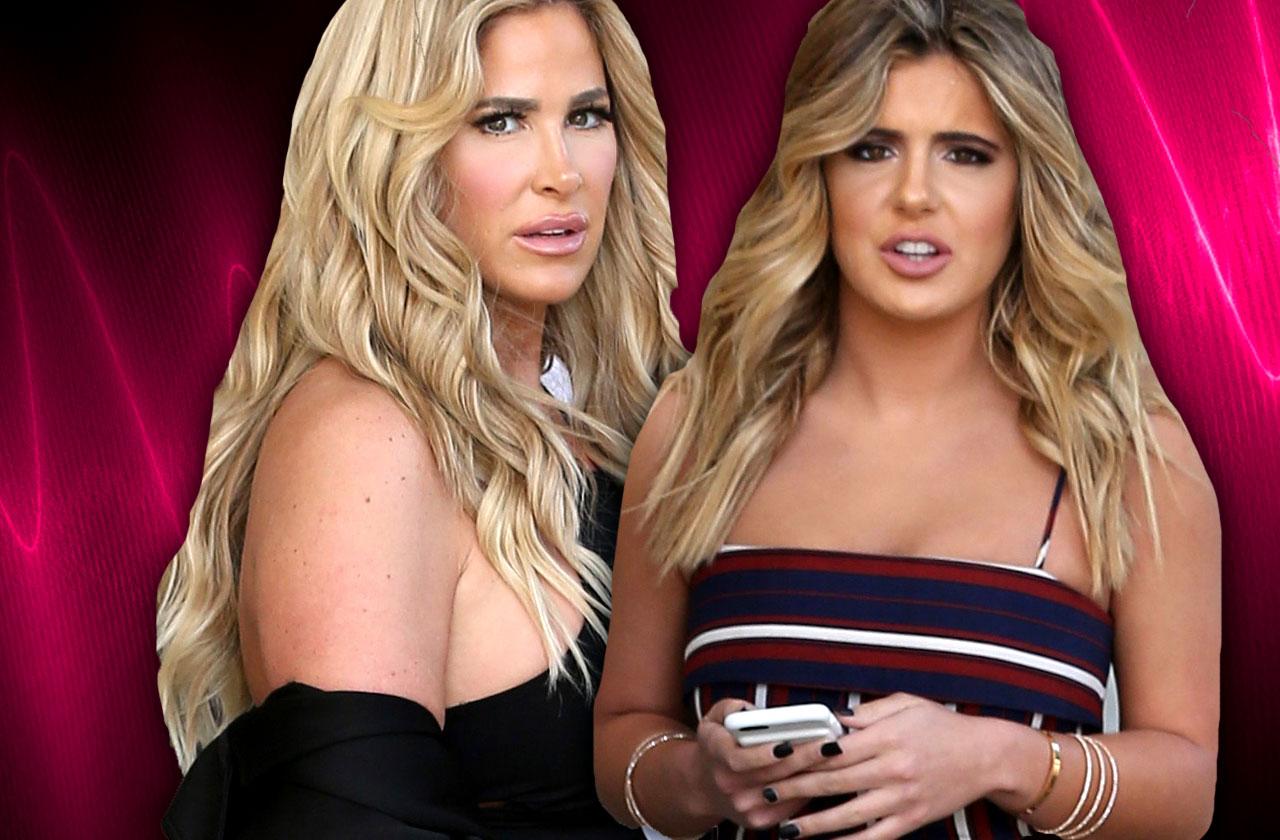 Kim Zolciak called 911 this Wednesday, after a burglar broke into her daughter's car and stole her designer purse! Now, RadarOnline.com has obtained the shocking audio of the desperate Real Housewives of Atlanta star alerting police about her missing belongings.
The Blast was first to report the 911 call coming from Zolciak's home this March 14.
"Hey there, umm, this is Kim Zolciak. One of my neighbors' cars was stolen two nights ago. I got a text message last night. We just happened to watch our cameras and they broke into my daughter's car — stole her purse. They've charged $10,000 on one car, and I have no idea what they put on my Amex," the reality star said on the phone.
Article continues below advertisement
She proceeded to give the operator her address.
"We have him on camera, he does have a hood on or whatever, but I'm sure there's fingerprints on our car," she added. "I just can't. I can't believe that s**t. "
The dispatcher tried keeping Zolciak, 39, calm, saying: "We are going to have an officer come out, and they will assist you with that."
"Our gate's been broken for two weeks because our neighbor hit it. So what are the odds. It's like bananas," continued an exasperated Zolciak. "We've had a gate for five years since we lived here."
The blonde beauty then when on to say that the incident occurred at "Two o'clock in the morning on the thirteenth."
She also told police that the burglar took her credit card, but she hadn't checked how much money they stole.
"I haven't checked my American Express. But my license is in there, my daughter's license is in there," said Brielle Biermann's famous mother. "I just know that my neighbor got their Escalade stolen at their garage. And my daughter had a Louis Vuitton bag in my daughter's car and a laptop — they didn't take that."
Article continues below advertisement
"So they were probably just looking to steal cars," Zolciak continued in her tirade. "They were successful with one of my neighbors. And it is a white Porsche. A white Porsche is what drove up to their house, stole their Escalade and drove off. Then you see the white Porsche in front of my house, and you see the guy get out, run, go mess with my daughter's car, runs back out, and then he runs back in!"
The 911 dispatcher then asked Kim Zolciak what the total estimated value of the stolen items was.
"Well my daughter called me and said he spent $10,000 on her debit card. The Chanel bag was $2800 worth. I don't know about my American Express because I called you first," she said. "But my American Express has no limit. So there's no telling."
Zolciak ended her call by saying that her 21-year-old daughter, Brielle Biermann, was "so upset" after getting her designer purse stolen. "We are trying to figure out what else is missing."
As RadarOnline.com readers know, Biermann broke things off with boyfriend Michael Kopech, two days after the shocking robbery.
Do you think she's doing okay? Sound off in the comments below.
We pay for juicy info! Do you have a story for RadarOnline.com? Email us at tips@radaronline.com, or call us at 800-344-9598 any time, day or night.