Kim Richards 'Didn't Care' If She Died Before Getting Sober, Claims She Confused Medications In Paris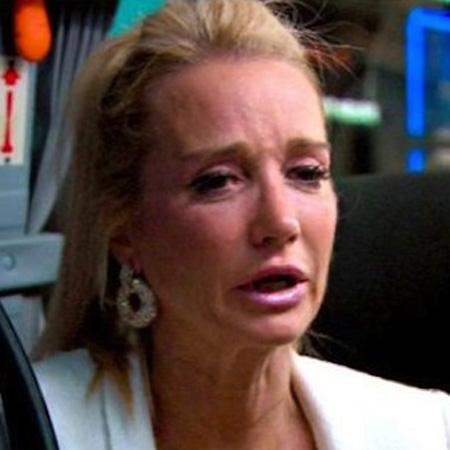 Kyle Richards finally celebrated the opening of her Beverly Hills clothing boutique, but not everything was roses and champagne because she cornered her sister Kim Richards to get to the bottom of Kim's bizarre behavior the previous week in Paris, and RadarOnline.com has all the details of her shocking discovery.
While Kim claimed to be taking her sobriety very seriously, it was a surprise to all the Housewives in last week's episode when Kim showed up in Paris acting as if she was drunk, or at the very least on some type of medication.
Article continues below advertisement
"I wasn't using anything, I wasn't doing anything, but physically and mentally I wasn't okay," Kim said, as she went on to claim that she had simply confused medications and thought she was just taking a water pill as opposed to something much more powerful.
"It's almost the same color," Kim explained.
"I know that it wasn't alcohol, but she didn't seem sober to me," Kyle confessed. "I didn't know what was going on with her. I need to know."
Kyle admitted, "It makes a lot of sense that she took the wrong medication because I know my sister has been very strong in her sobriety.
But before getting sober, Kim admitted to being in a very dark place and didn't care whether she lived or died.
"Seven months ago, I was sitting on a bed not thinking I was going to die…I knew it," Kim confessed. "I didn't care anymore. I felt like nobody cared anymore. I didn't want to die, but I also didn't care."
Article continues below advertisement
Kyle added, "I think for Kim to win back 100 percent of my trust is just going to take time.
"Eventually we're going to get to a place where I trust what she's telling me. But for now…"
Kim, however, was well aware that her sister might not be believing her story.
"It's not a good feeling, but I don't deserve all the trust right now," Kim said. "I have to earn it back with everyone."
After some hugs and tears, Kyle felt better about the situation but still had her fears about the future.
"Kim has told me herself that she has to take it one day at a time, and that she can't guarantee to me that she's going to be sober forever," Kyle said.
Watch the video on RadarOnline.com
To find out who stays sober and who doesn't on The Real Housewives of Beverly Hills, tune in next Monday night at 8/7c on Bravo.